Over the past few months, both of The Explorers have become avid picture takers – especially when we're out on our nature adventures. I'm happy to see them incorporating their interest in technology in such a positive way.
Taking pictures allows us to slow down, be patient and focus in on things we might otherwise miss. It isn't just fun, it's also a great way to learn more about what we discover. We often use our photos to help us identify things we see, such as birds, butterflies and flowers – then seek out more information as desired.
We look forward to sharing our seasonal nature photo hunts with you. And now that summer is officially underway, the 2014 Summer Nature Photo Hunt is here!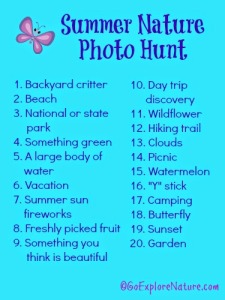 I've come up with 20 things you and your kiddos can hunt for outside this summer. Find an item, snap a picture and check the item off your list. To make it even easier, I've created a free Summer Nature Photo Hunt list that you can print out and post somewhere you'll see every day.
Most items can be found in your own backyard or neighborhood; others might be spotted during a local nature adventure or on a family vacation. You may choose to complete the summer nature photo hunt all at once or play all season long.
Don't worry if your child isn't an aspiring photographer or sometimes needs your help to snap a shot. The point is to get outside exploring!
I'll be sharing our pictures on Facebook and Instagram if you'd like to follow along and see what we're up to.