Last season's Fall Nature Photo Scavenger Hunt turned out to be a lot of fun – both for us and for those of you who played along. Since winter often finds us struggling for an excuse to head outdoors in the face of cold temps and generally dreary weather, it seems like some new inspiration is in order.
The only rule for the winter nature photo scavenger hunt is that there are no rules. I've come up with some prompts to inspire you to head outside, but exactly what you photograph and when during the season is entirely up to you and your little explorers.
There are 30 ideas listed here, but winter is three months long. That means you can take your time checking items off the list. Come mid-March, you'll have a wonderful collection of memories of your time in nature.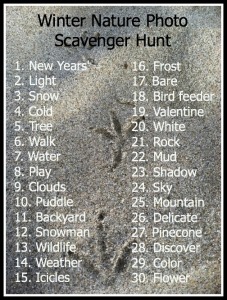 How to Play
If you need a little inspiration to play along, I'll be sharing photos we take throughout the season. Here's how you can join the fun:
Head outside and into nature with your family and start exploring!
Once you or your kiddos have taken a photo, there are lots of ways to share:
And if you'd love to play along but have no desire to share your photos publicly, please do so!
This scavenger hunt is meant to be fun, so don't worry if you miss an item or don't start playing along until mid-season. The point of all of this is to get outside with your family and connect with nature.