Nature fun idea No. 3 on our Countdown to Christmas list was to make an ornament from nature. Last year's hand-made ornaments using clear, acrylic glass ornaments and bits from nature were a big hit. But this year we wanted to try something new.
Although I have since seen painted ornaments on Pinterest, it was a fellow parent at The Big Explorer's school that introduced this craft to me last week. We loved the results we had with our first efforts and decided to try making a few more on our own.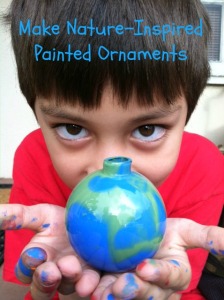 It was The Big Explorer who came up with the idea to use nature as his inspiration. He wanted to create "Planet Earth" using a mixture of green and blue paint. The Little Explorer then used red and orange to create an ornament reminiscent of a fiery sunset.
We quickly realized that nature provides a ton of inspiration. Add a little silver glitter paint with dark blue and you've got a starry night. Or a light blue with white for a cloudy summer day.
This project is simple enough to be done with kids of all ages. Allow anywhere from 15 minutes to much longer. Your biggest challenge will be getting the kids to stop wanting to make more.
Here are the supplies we used to create our nature-inspired painted ornaments:
Clear acrylic glass ornaments (which you can find this time of year at just about any craft store)
Acrylic paints in whatever colors you choose
Paper cups
And here's how each nature-inspired painted ornament is made:
Remove the top of the ornament (this is usually an adult job since these pieces can be broken or misshapen fairly easily)
Add paint to the inside of the ornament. (The Explorers simply squeezed out some paint directly from the bottle.)
Swirl the paint around the ornament for coverage and to create a marbled effect.
Place the ornament upside down in a paper cup. This allows the paint to drip even more, removes any excess paint & allows the paint to dry. We left ours to dry overnight.
Replace the top of the ornament & add a ribbon for hanging.
A few tips for fun and success making nature-inspired painted ornaments with kids:
Create your works of art outside!
Stick with two to three paint colors.
Consider adding some glitter paint for added sparkle.
Don't worry about perfection – this project is meant to be creative & fun!