Nature fun idea No. 6 on our Countdown to Christmas list was to create twig stars. The task began by collecting sticks at a Christmas tree lot we visited with The Little Explorer's preschool. Unlike most sticks in our neighborhood, these were fresh cut and smelled amazing!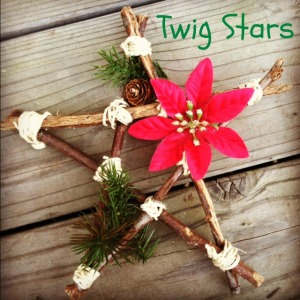 Here are the supplies we used to create our twig stars:
Sticks – you'll need 5 sticks of roughly equal length for each star
Other bits of nature for added decoration (optional)
Twine
Scissors
Glue gun (optional)
And here's how to make twig stars:
Gather up some sticks.
Choose 5 sticks & lay out the design of your star.
Using a glue gun, secure the shape of your star. Simply dab some glue to the ends where the sticks meet. (Note: We skipped this step since our glue gun failed.)
Wrap twine around the sticks at the ends & intersections to keep the sticks in place. (If you prefer to have a cleaner look, use glue instead.)
Add bits of nature as desired. Adhere with glue as needed. (Note: We were able to successfully wedge our items into place without glue.)
If you use a glue gun to make your twig stars, the process will go pretty fast. Without one, it took us a little longer – which was a good thing. It gave us a chance to slow down and connect.
We talked about which sticks to use and what other shapes we might want to make. Then The Big Explorer held the sticks in place while I secured them with twine. Once our twig stars were ready, we added bits of holiday nature décor. It was truly a team effort.
A few tips for fun and success making twig stars with kids:
Enjoy the collecting – it's fun trying to find just the right sticks!
Leave the actual forming of the twig star (whether by glue or twine) to an adult – unless you have older kids. Younger kids will enjoy adding other items to the twig star once it's formed.
Add paint or glitter as desired for some extra pizzazz.
I am happy to report that the very first item to be placed on our Christmas tree this year was our twig star.