During our recent spring break getaway, we managed a stop in the desert – Palm Desert, that is. After a day spent at Joshua Tree National Park (more on that later), we wanted to get up close and personal with desert wildlife. So we carved out some time to visit The Living Desert.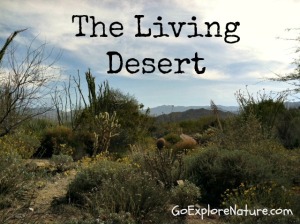 The Living Desert promises "a wildlife adventure through the deserts of the world." To this end, the park is divided into two parts: North America and Africa. Each features not just desert animals and aviaries, but native gardens as well.
But The Living Desert is more than a collection of exhibits. It is also a nature preserve. In fact, more than 1,000 of its 1,200 acres are undisturbed Sonoran Desert, including a series of nature trails visitors can access during their stay.
We've spent a fair amount of time at zoos and I would be remiss if I didn't mention two things that really stood out for us about The Living Desert.
The animals seemed more active and alert than any we've seen at other zoos. In fact, we watched a diamondback snake strike at its neighbor snake in the reptile and invertebrate house. (Thankfully, no snakes were harmed during this encounter.)
The exhibits don't just look natural; they feel natural, too. Take the bighorn sheep hanging out at Bighorn Mountain. No fake-colored, faux rocks here – this is the real deal. Then there were the numerous animals we spotted slumbering in their dens, thanks to a peek-in-window feature I've never seen before.
We also liked that many of the residents of The Living Desert are common to the area but hard to see up close. This includes the aforementioned diamondback, a roadrunner, ravens, red-tailed hawks, peregrine falcons – even a badger. The African faves (giraffes, camels, cheetah and ostriches) were merely icing on the cake.
5 Fun Things to Do at the Living Desert With Kids
Catch a show to learn more about zoo residents from the experts.
Tour the Wildlife Hospital & Conservation Center. It's free and you can drop in any time.
Ride the carousel – because it's fun!
Get up-close with the animals by watching the giraffes eat, riding camels or visiting the petting kraal.
Go on a nature walk. Choose from more than 20 gardens and several nature trails.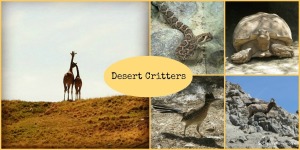 Practical Matters
Check The Living Desert web site for updated hours, pricing & special events
The Living Desert is part of the Association of Zoos and Aquariums, so ask about discounts if you have a membership at another AZA-accredited zoo
The shuttle stops at 11 locations throughout the park; drivers announce what to see & do at every stop. Tickets available at the entrance or from the drivers
Mixture of paved & dirt paths, all seem stroller friendly
Lots of covered (shaded) spots to rest throughout the park
Plenty of restrooms located conveniently throughout the park
There are a few restaurants, plus picnic tables if you opt to bring your own
Free parking
Palm Desert can obviously get quite warm (especially in the summer), so plan to arrive early & bring plenty of water, hats & sunscreen – umbrellas aren't a bad idea, either
Allow 3 to 4 hours for your visit
The Living Desert is located at:
47900 Portola Ave.
Palm Desert, CA 92260
(760) 346-5694
Note: This review is based on my family's personal experience. We did not receive any incentive to visit, nor any compensation for sharing my opinions. Read my full disclosure policy for more information.