May 1 is right around the corner and around here that means we'll be making May Day baskets.
Yes, May 1 – also know as May Day – is historically a time to celebrate the Earth's fertile season. But our tradition has less lofty origins.
It began a few years ago when The Big Explorer first started school. One of his classmates surprised us with a May Day basket full of goodies – complete with an anonymous drop off at our front door.
The next year we returned the favor with a May Day basket of our own. But we decided that instead of filling it with candy and other small chotchkies, we'd use flowers we collected in our neighborhood.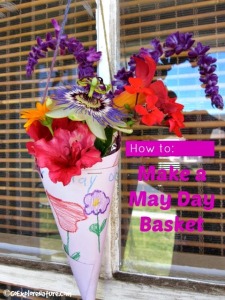 We think our May Day basket turned out quite well (though we need to improve our stealthiness at drop off).
Wanna make your own? The National Wildlife Federation has easy-to-follow instructions on how to make a May Day basket, which are so simple even I could do it.
A few pointers:
Have fun decorating the basket. The Big Explorer drew flowers and wrote "Happy May Day" on his. You could also use paints.
When you go flower picking, stick to flowers that are already plentiful or from your own garden. Some weeds are pretty, too.
Look before you pick! Beware of bees and other critters that might be inside flowers.
Wrap your flower stems in a wet paper towel on top of a piece of aluminum foil. This will keep the flowers looking fresh much longer than if you don't.
Be playful when you hang your May Day basket on the doorknob of a friend or neighbor. Trying to surprise your recipient without being discovered is the best part!