When it comes to summer camps, Los Angeles has them in all shapes and sizes. Sleep away camps, beach camps, art camps, coding camps, sports camps and more. It seems like there's something for everyone.
Personally, I find it all kind of overwhelming. Which is why I wanted to create this guide to science and nature summer camps in Los Angeles. I've spent a TON of time over the years searching through summer day camp listings to find just those tailored to science and nature. So now you don't have to!
Registration for many camps is already open; some even offer early bird discounts for enrolling before April. Camps in Los Angeles tend to fill up quickly, so knowing your options early certainly doesn't hurt.
Please note: This information should not be taken as an endorsement of any organization. I'm simply sharing information I've researched to help you choose what's best for your family. Before signing up for any of the camps listed here, please do your own checking to verify all program details. 
Central LA & Exposition Park
Adventures in Nature at the Natural History Museum and the La Brea Tar Pits and Museum: These hands-on, interactive camps focus on the museum's content – in this case dinosaurs and natural history. My oldest son attended when he was a kindergartner and loved playing paleontologist for the week!
Camp Themes: Dinosaurs!, A Bug's Life!, Backyard Adventures, Paleo Quest, Oceans, Totally Pterosaurs and L.A.'s Tar Trap.
Ages/Grades: Grades K-8
For more information: Adventures in Nature
Hands-On Science Camp at the California Science Center: More than 30 courses available, including themes in physics, chemistry, biology, space and Earth sciences.
Ages/Grades: Grades K-10 (ages 3-4 with an adult)
For more information: California Science Center
The Garden School Foundation's City Seedlings: A cooking and gardening camp that teaches kids where their food comes from and how they can whip it up themselves!
Ages/Grades: Ages 5-13
For more information: Garden School Foundation
San Fernando Valley
Science is My Thing at the Discovery Cube LA: Kids will spend the entire week exploring all the Discovery Cube has to offer.
Ages/Grades: Ages 7-10
For more information: Discovery Cube LA
Summer Zoology Camp at the Wildlife Learning Center: Camp features lots of animal interactions and activities that allow kids to be real zookeepers. Campers learn about animal diets, care, habitats, enrichment and more.
Ages/Grades: Ages 5-9 & 9-14
For more information: Wildlife Learning Center
Zoo Camp at the Los Angeles Zoo: Campers participate in animal close-ups, games, crafts and activities that will help them discover more about zoo animals.
Camp Themes: Pre-K and Kinder – Down on the Farm, Critter Jam, Painting Peacocks and Apatosaurs to Zebra, 1st-3rd grades – Animal Olympics, Outback Adventures, Furry Felines and Super-Sized Safari, 4th-6th grades – Comic Creatures, Rebel Raptors, Zoorasic Park and Zoo Survivor
Ages/Grades: Pre-K (age 4)-6th grade
For more information: Zoo Camp
San Gabriel Valley
Descanso Discoveries: Campers get to tend to their own garden plot, prepare healthy snacks in the outdoor kitchen, and investigate nature through art and science-based activities. Choose from two, one-week sessions in June.
Ages/Grades: Grades 1-7
For more information: Descanso Gardens
Huntington Explorers: Explorers get to experience The Huntington's collections through an investigative lens – by roaming the gardens for specimens, unraveling the mysteries in a painting and other creative activities. Runs July 11-29. Sign up for one week, two weeks, or all three.
Ages/Grades: Ages 5-12
For more information: The Huntington
Kidspace Children's Museum: Camps are designed to transport kids into a world of exploration and adventure.
Camp Themes: Art Adventures, Bug Band, Mad Scientist, Mystery Detectives, Amazing Animals and Outer Space
Ages/Grades: Ages 5-9 (plus one week for kids ages 4-5)
For more information: Kidspace Children's Museum
Summer Nature Camp at the Arboretum: Prepare for a week of exploring plants and history throughout the gardens. Kids will have a chance to mix art and nature by painting, drawing, and sculpting crafts.
Ages/Grades: Ages 5-11
For more information: The Arboretum
Santa Monica
Science Adventures Camp at the Santa Monica Pier Aquarium: Each day is themed around a different ocean topic and is filled with games, crafts and lab experiences in a setting that fosters interaction with more than 100 species of marine life.
Ages/Grades: Grades K-5
For more information: Heal the Bay summer camp
South Bay & Long Beach
Aquarium of the Pacific: Get behind-the-scenes access to the ocean world!
Camp Themes: Fish Fry, Sea Squirt, Ocean Adventure, Junior Biologist and Teen Overnight
Ages/Grades: Ages 5-13+ (ages 3-4 with an adult)
For more information: Aquarium summer camps
Long Beach Marine Institute: Campers will enjoy weekly field trips, kayaking and an expedition aboard the research vessel Challenger.
Camp Themes: Squirmy, Slimy and Spineless, Whale Tales and Mammal Friends, Mysteries of the Deep, Liquid Jungles of the Sea and Shark Days
Ages/Grades: Ages 5-12
For more information: Long Beach Marine Institute
Roundhouse Aquarium Beach Camp: The only science and beach camp in Manhattan Beach features some seriously fun activities. These include digging for sand crabs, dissecting squid, learning about sharks, building sand sculptures, shooting a lemon cannon, playing beach games and more!
Ages/Grades: Ages 4-10
For more information: Roundhouse Aquarium
Science at the Seashore at the Cabrillo Marine Aquarium: Learn about the marine environment through hands-on activities.
Camp Themes: Crab Shells & Native Tales, Galloping Snails & Other Fishy Tales, Ichthyology & Other Slimy Words, Marine Sci Hi & Wet Tech
Ages/Grades: Grades 1-12
For more information: Cabrillo Marine Aquarium
Westside
STAR Eco Station Camps: This environmental science museum and exotic wildlife rescue facility is host to a variety of very popular summer camps. The Little Explorer has attended two summers in a row!
Camp Themes: All Things Aquatic, Junior Eco Staff, Marvelous Mammals, Winged Wonders, Eco Heroes, Reptiles Rock, Eco Olympics, Rescuing Wildlife and the Best of Eco.
Ages/Grades: Grades 1-6
For more information: STAR Eco Station camps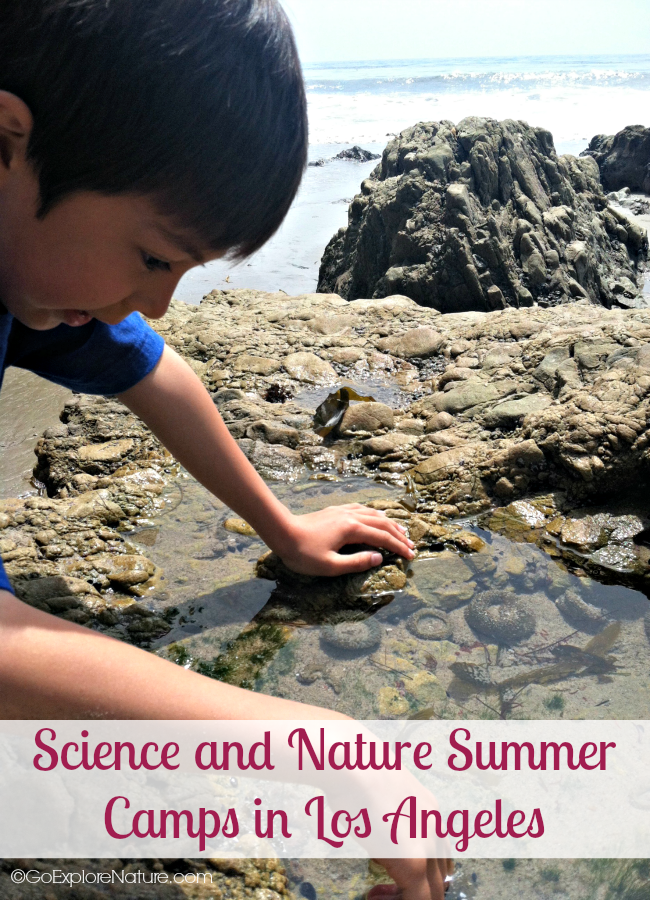 For more fun things to do outdoors with kids in Los Angeles, check out the Big List of Outdoor Adventures for Los Angeles Kids.