Fun Friday activities are quick-and-simple ways to explore nature in your own backyard.
The Idea
Build a roly-poly terrarium to serve as a temporary indoor home for our roly-poly friends from the backyard.
About a month ago, we created a "Bug World" in our backyard. Since then, The Big Explorer has been checking regularly for signs of inhabitants. And sure enough, there have been plenty of visitors of the roly-poly persuasion. On several occasions, my son has asked if he could keep a few in his room.
Fast forward to last weekend when we attended the Natural History Museum's Bug Fair. During our brief visit, we met someone who told us how we could ensure our roly-poly friends would survive: build them a terrarium.
Soon after coming home, I googled "roly-poly terrarium" and found some instructions, which seemed simple enough and sealed the deal for me. And so this week, we created our own.
Our notes from the field
The good news is that it doesn't take much to build your own roly-poly terrarium. In fact, all you need is:
A plastic container
Dirt
Weeds
Whatever else you might want to add, like rocks, sticks or wood
Roly-polies
Since we already had a plastic bug container that had previously housed one of our adopted caterpillars, we were ready to head outside.
I love this activity for its simplicity. I asked The Big Explorer what he thought would make his roly-polies feel at home, and he searched our yard to find everything we needed.
First we added a couple of inches of dirt. Then we searched for a weed to add so the little guys would have something to munch on. This one's a little weak looking, but we can always swap it out later.
After transplanting the weed into the container, The Big Explorer searched for other items he thought would be fun for his bugs. He chose rocks and sticks – so they'd have a way to get around, of course. (Upon advice from the expert at the Bug Fair, I also added a few carrot and potato bits, which he assured me roly-polies love.) Here's a shot of what it looked like before we added the roly-polies.
Once their home was just right, The Big Explorer went looking for the perfect inhabitants. He picked up the overturned flower pot that's always been a favorite spot for the bugs and whammo – tons of the little guys!
This was definitely the most fun part of the activity – picking up the bugs and setting them down in the perfect spot.
After that, we spritzed on a little water and closed the lid. The Big Explorer was transfixed for quite a while, watching the little guys explore their new home.
We brought the terrarium into his room, where he is lovingly watching the activities of his roly-poly friends several times a day. Not only is he happy to have some bugs inside, but he (and I) are learning lots about roly-polies!
Take-home tips
I was amazed how simple and quick it was to set up home for some of our more common backyard critters. To ensure success:
Choose a decent container. Our travel size bug container cost less than $5 at a pet store and was well worth it. The removable lid is handy if you need to swap out a plant or add something new. Plus it comes with built in air holes and is clear, making observation a snap.
Pick a safe place to house the terrarium. This is important in our home, which we share with two cats and a 2 year old. We made sure to pick a spot that's out of reach of little hands and paws and also one that doesn't get too much heat.
More ideas for outdoor fun
There seems to be no end to ideas for enjoying nature with kids. Whether you've got 10 minutes or an entire morning, consider getting out there and trying one of these activities:
Here's hoping you have a wonderful weekend exploring the outdoors!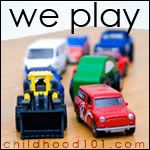 This post is just one of many dedicated to play at the Childhood 101 "We Play" link up. Head on over for more ideas!