Fun Friday activities are quick-and-simple ways to explore nature in your own backyard. 
The idea
Take a spring nature walk around the neighborhood.
Our winter nature scavenger hunt a couple months ago was such a hit that I figured another was in order, especially since the seasons have changed. I chose this checklist for our hunt because it requires kids to use multiple senses in their search efforts. They are asked to look for things to see, hear, feel and smell.
Our notes from the field
We celebrated The Little Explorer's second birthday this week with our nature walk adventure. We keep things pretty low-key in our family, so this seemed like the perfect way for us to enjoy some time together outside on a lovely spring evening.
Now having a few scavenger hunts under his belt, The Big Explorer was eager to get started. His first task: Smell the grass. When he proclaimed it smelled wonderful, I knew things were off to a great start.
It wasn't long before we'd found something smooth,
and then something rough. In the space between the sidewalk and the street, we saw plenty of weeds.
The Big Explorer chose this amazing flower to touch – right after seeing a bee fly out!
Meanwhile, the birthday boy was all about playing his own game of "monkey-see, monkey-do." When brother ran his hand through a pile of leaves, so did he.
When The Big Explorer chased a squirrel up a tree, The Little Explorer followed close behind. We stayed staring at this little guy high up in a palm tree for quite a while before heading for home.
I was amazed by all the signs of spring in our neighborhood – new growth on trees that were bare during our winter nature scavenger hunt just two months ago.
Plenty of brilliantly colored blooms that took our breath away.
And there were sounds to listen for, too. Like a bird chirping, dogs barking and the wind rustling the leaves.
In spite of the fact that we haven't had rain in weeks, we also found mud and a worm. The Big Explorer was so pleased with his find!
Our last discovery of the walk was a nest in the same tree that was bare just a couple months back. Nature's reminder that new life begins again.
I couldn't think of a better way to celebrate this special day.
Take-home tips
As with most of our nature play ideas, we like to keep it as simple as possible. To do that:
Adapt your checklist as needed. I considered the list we started with a starting point. As we heard and saw things on our walk, I told The Big Explorer to add the items to our list. Now we've got a more personalized version for future explorations.
Compare notes from one walk to another, or from one season to the next. We talked about how things looked, sounded and felt different now than during the winter. And you can bet we'll be taking another nature hunt come summer.

More ideas for outdoor fun
It has been another week of wonderful ideas for nature play around the blogosphere. Here are some of my favorites: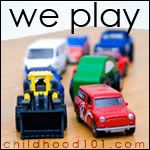 This post is just one of many dedicated to play at the Childhood 101 "We Play" link up! Head on over for more ideas.
There's a beautiful world waiting outside for your kids to explore. What are you waiting for?