Easter is just three short weeks away, making it high time for me to figure out what's going in the kids' baskets this year. Aside from the chocolate bunnies of course …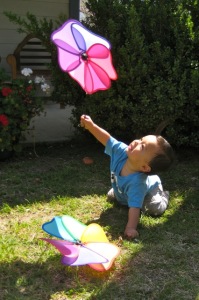 The Little Explorer's 1st Easter
As you might expect, I always include at least a few items in our Easter baskets to encourage outdoor play and nature exploration. I was thrilled to see that many of you fans on Facebook have the same idea.
Here are some items to consider adding to your budding explorer's Easter basket this year. (And if you don't celebrate Easter, this makes a handy list for birthday present ideas.)
Explorer Gear & Cool Tools
Gardening tools and/or gloves
Seed packets & planting pots
Sunglasses
Sun hat
Water bottle
Flip flops, river sandals or rain boots
Umbrella
Compass
Magnifying glass
Bug box
Fishing pole & lures (thanks to Kim C. for the idea)
Outdoor Play Accessories
Kite
Bubbles
Sidewalk chalk
Pail, shovel & sand toys
Flower press (thanks to Kristal W. for this fun idea)
Nature Learning
Books about nature or with a nature-theme (which could include a field guide if it's of interest to your child)
Live insect kits (such as ant farms, caterpillar adoption kits & ladybug lands)
PLUS! A Few Bigger-Ticket Possibilities
Kid-Sized Backpack
Camera
Microscope
Binoculars
Need a few more ideas?
What will you be adding to your kids' baskets this year to encourage outdoor play and exploring?