This April 21-29 is National Park Week here in the United States. To encourage people to visit some of the amazing places that make up the national park system, entrance to all 397 parks is FREE for the entire week!
Of course, I'm partial to one particular national park. What's on my to-do list when we head to Yosemite?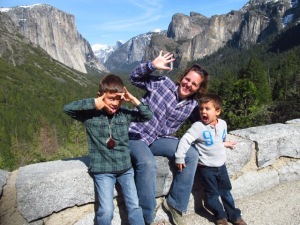 Tunnel View overlook, 4/2012
1. Hit the trails.
I asked every member of our family to name their favorite thing to do in Yosemite and everyone's response was the same: go hiking. Thankfully, there are enough trails in Yosemite to hike for years and never tire of the surroundings.
2. Take a picture at the Tunnel View overlook.
The Tunnel View scenic overlook is a historic site, affording expansive views of Yosemite Valley including El Capitan, Bridalveil Falls and Half Dome. No matter how many times I see it, I am always humbled. It remains one of my favorite places on the planet.
3. Celebrate Fourth of July at the Pioneer Yosemite History Center.
Every summer, this collection of historic structures from different eras of Yosemite history is brought back to life. But it's the simple Fourth of July events I adore – potato sack races, egg toss and tug-of-war events, stagecoach rides and banjo players – not to mention the barnyard square dance.
4. Eat outside as often as possible.
We have an unwritten rule about meals and Yosemite; with few exceptions, we eat outside. Sometimes on a trail, at the river, on a picnic blanket or at one of the Summer Saturday Night BBQs at the Wawona Hotel.
5. Dip our toes in the water.
When I was a kid, my dad would lure us on hikes with the opportunity to dip our toes in the water once we reached our destination. Guess what? It still works.
For more things to do in Yosemite with kids, check out An Insider's Guide to Exploring Yosemite National Park with Kids.