Before I began writing here, I had little interest in gardening. And in the 2+ years since, we've tried to grow quite a few things with mixed results.
Truth is, our favorite thing to do in our backyard is to watch the wildlife – especially the birds, butterflies and yes, even the bees.
As a long time reader of Ecosystem Gardening (a wonderful blog with the tagline "Create wildlife habitat. Protect the environment."), I'd heard the term "native plants" before.
It just took me a while to realize that planting our own natives might give us exactly what we're looking for.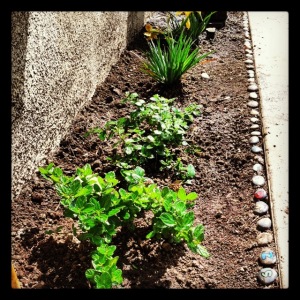 Why go native? Native plants support local food webs. The idea is that by planting native plants in your yard, you're providing habitat for the insects, birds and wildlife that are part of your local ecosystem. (If you need a more eloquent explanation, I suggest you head over and read Ecosystem Gardening and Native Plants.)
3 Tips for Planting a Native Garden With Kids
1. Talk about why it's important.
Don't think kids can't make a distinction about how some plants are better for local wildlife than others. At 7.5 years old, The Big Explorer gets it. And even at 4, The Little Explorer understands that some plants and flowers help our bugs and birds more than others.
2. Do your research & learning together.
I hear the term "native" used often when referring to plants that are anything but. To be sure you're planting what's really native to your area, do your homework.
I turned to a fellow gardener who pointed us in the direction of a couple of nurseries near us that specifically sell California natives.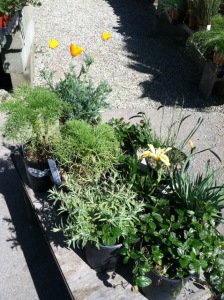 Our bounty at the local nursery
The nursery I visited had an entire section devoted to California natives. I made sure each plant was labeled "California native" before considering it for our space. (After all, lots of plants get moved around and misplaced in a nursery every day, right!)
In the end, our selection of plants was a team effort. I'm not so sure we picked the right combination of plants, or even that the plants we chose will do well in the area of our garden where they are planted. But that's what makes gardening with kids so wonderful: They're more than willing to learn as we go.
3. Add some whimsical, wildlife-friendly touches.
Our garden space isn't very big (15 feet long by 1.5 feet wide), but I still wanted it to be kid-friendly, inviting and fun.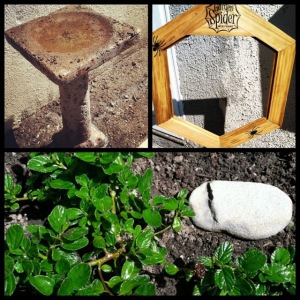 We moved our birdbath to the center of the native garden space (and were thrilled to see that within minutes, it saw its first visitors). We also added a spider web frame, which will hopefully encourage spiders to do their thing once the plants grow up around it.
Lastly, we added rock markers as plant labels. We still need to add the names, but you get the idea.
We're excited to see how our little space develops. We're even keeping track of our garden progress in our family adventure journal.
Do you have a native plant garden? I'd love to hear any tips or advice!