My kids love collecting items from nature whenever we're out exploring – whether we're in the backyard or beyond. Sticks, flower petals, rocks, seed pods and the like.
I know some folks feel pretty strongly that removing items from nature is inherently wrong. I agree with that notion in theory; but I also know that my kids learn a lot by touching, looking at and studying found items in nature. And I support that learning whole-heartedly.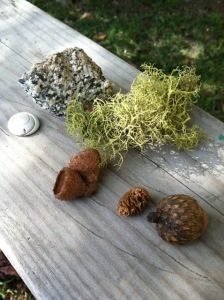 So when my blogger friend Dawn of The Outskirts Nature Journal invited us to participate in a nature exchange, I couldn't pass up the opportunity. After all, the kids love getting mail, especially from another country (Dawn lives in Canada)! Combine that with the chance to learn about nature in another part of the world and I was sold.
What's a nature exchange? It's an exchange of items from nature with someone living in another city, state, province or country.
As part of our nature exchange, we spent about a month collecting items on our various adventures. Last week, we made a list of our items, packed them up and sent them off.
Dawn has had a little practice at this, so she was a big help. In fact, she wrote a great post about nature exchanges over on The Magnifying Glass. Here's some of her sage advice.
To host your own nature exchange:
Ask a friend or family member who lives in another part of the country (or beyond) if they'd like to set up a nature exchange
Agree on a time frame for collecting & shipping items
Gather up favorite bits from nature when you're out exploring, whether in your own backyard or beyond
Make a list of your items, including as much detail as you might know about each (such as where you collected them & when)
Wrap up smaller, fragile items in tissue paper and place them in an egg carton for safe shipping; larger items should be wrapped, too; place everything in a box
Consider adding something a little extra – a postcard of local wildlife, for instance, or even a nature-themed game