My husband and I camped quite a bit before having kids. But we've been a little hesitant to venture back out there since. That's about to change.
We're planning a week-long road trip this summer that will involve quite a bit of camping. And while last weekend's foray into glamping was nice, we need to step up our game if we're gonna be ready for the real thing come August.
Advice on camping with kids from friends can be nice, but sometimes you need a little more. Enter "The Down and Dirty Guide to Camping With Kids," your go-to guide for car camping with kids.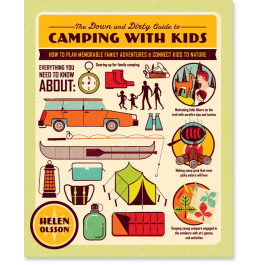 The 256-page book covers everything from planning your trip and gathering your gear to choosing and setting up your camp. There's advice on what to do once you're out in the field and some basic first-aid and safety stuff that's always good to know.
Here are just a few of the reasons I think every family needs a copy:
1. It's an honest take on camping with kids from a mom whose been there, done that.
When it comes to family camping, author Helen Olsson is anything but a novice. With three kids of her own and many, many camping experiences under her belt, she knows what she's talking about.
What makes "Camping With Kids" such a fun read is that Olsson is honest and genuine in her advice – sharing her lessons learned from scenarios we can all relate to (and some we hope to never have happen to us). I love her bottom line: "When you're traveling with kids, you have to go with the Whatever Works approach." Amen, sister.
2. It's organized in a read-what-you-need format.
"Camping With Kids" is perfect for those who've never camped before. But the read-what-you-need format allows even veteran backpackers to learn a thing or two about camping with kids in tow.
3. Oh, for the love of checklists.
You all know have I love making lists. "Camping With Kids" offers up a ton of packing lists throughout the book, which you can easily tailor to meet your family's specific needs. (Plus, these lists are grouped together at the back of the book for even easier access.)
4. Can you say a weekend's worth of recipes?
I'm no gourmet and my idea of camp food is pretty rudimentary. But if you're a little pickier, Olsson aims to serve, providing a weekend's worth of camp-ready recipes. My favorite? Six variations on the classic s'more.
5. There's an entire section devoted to outdoor recreation!
Unlike camping with adults, camping with kids means entertaining said kids 24/7. And while many are content to go hiking, fishing, swimming or simply play in the dirt, others not so much. It never hurts to have some campsite boredom busters on hand.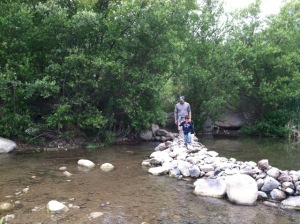 Dad & The Little Explorer enjoying nature on our recent glamping adventure.
6. The Resources section alone is worth it.
This is the most thorough list of camping resources I've seen. It ranges from books (from how-tos to camping-themed picture books, chapter books and beyond) and organizations to stores, products and helpful online resources.
7. There are oodles of Smart Tips sprinkled throughout.
Olsson's term, not mine. But these tips are pretty helpful, like the one that suggests bringing earplugs – even if you don't use them at home – or bringing along a portable crib if camping with babies and toddlers (a true lifesaver, people).
8. Comes complete with helpful advice on keeping clean out there.
Wanna keep clean while camping? I don't bother, but Olsson has some pretty descent advice for those of you who do. She even talks about the dreaded "p" word. Just in case you don't already know what to do if your kid needs to go #2 while you're out in nature.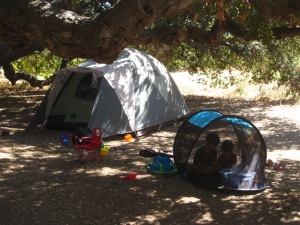 A play tent is one easy way to keep your sleeping tent clean.
If you're not already sold on picking up your own copy, let me sweeten the deal. I've got one to give away! To enter, leave a comment sharing one piece of advice for (or burning question you have about) camping with kids. Good luck!
This giveaway will run through midnight PST on Sun., June 10, 2012.
You must include an email address with your comment. Entries without an email address will not be included.
This giveaway is open to U.S. residents only.
The winner will be chosen using the nifty random number generator at random.org.
Winner will have 24 hours to reply to my notification. If I don't hear back after that, I'll pick another winner.
You can read more from Helen Olsson on her blog, Mad Dog Mom.
Note: I received a free copy of "The Down and Dirty Guide to Camping With Kids" in exchange for providing my honest review with you. Read my full disclosure policy for more information.