Have you given any more thought to pitching a tent in your backyard this weekend to participate in the Great American Backyard Campout? I hope you'll give it a go – if not now, at some point this summer. And remember, I'm here to help!
Today said help comes in the form of a list. 'Cause you know how much I love my lists. This backyard camping checklist is designed to help cut down on your prep time – simply download the list, print it out and go.
One thing worth noting: The one time we camped out in the backyard, we treated it just like the real thing. Which meant that once we declared the camping to have officially begun, we didn't go back in the house again except to use the bathroom.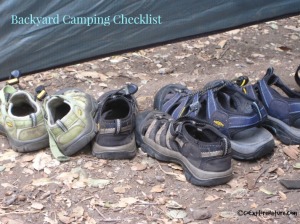 If you aren't feeling that adventurous, you might find you don't need quite as many of the items here. Pick and choose from (and add to) the list to meet your family's specific needs.
The Basics
These items remain pretty standard whether you're camping in your backyard or beyond.
Tent
Ground cover/tarp
Sleeping bags (or sheets & blankets)
Sleeping pads or air mattresses
Portable crib for younger kids
Pillows & kids' favorite items for sleep time
Clothing & Helpful Equipment
Notably absent here are the items within easy reach when you're camping in your backyard – things like a first aid kit and basic toiletries.
Jammies & a change of clothes
Jackets & hats (it can get cold at night)
Camp chairs
Beach blanket
Flashlights/headlamps (one per person)
Outdoor fire pit
Fire starting tinder, kindling & firewood for the fire pit
Matches or lighter
Insect repellant (if needed)
Diapers (if applicable)
Baby wipes (they're good for just about everything)
Camp Kitchen
We prefer to keep our camp meals simple, so we plan on grilling dinner (or ordering take out), then having a light breakfast. We use the inside kitchen to wash up after meals.
Backyard grill or camp stove & propane
Plates, cups & utensils (plastic utensils can keep it simple)
Cooking utensils, pots & pans
Cooler with ice
Reusable water bottles for everyone
Portable high chair or booster seat for younger kids
Food for dinner & breakfast
S'mores supplies (including marshmallow sticks)
Water & other drinks of choice
Formula or baby food for infants as needed
Paper towels
Trash bags
Fun & Games
Bubbles
Sidewalk chalk
Glow sticks
Scavenger hunt list or camping bingo
Play tent
Favorite games, coloring books & crayons
Books for bed time
Camera
Binoculars (for stargazing & wildlife spotting)
For more backyard camping tips, check out:
What did I miss – what's on your backyard camping checklist?