I've met a lot of amazing people since I began this blog. Parents, educators, grandparents, play advocates, homeschoolers and more. All sharing one goal: To spread the word about the importance of getting kids outside.
Many of these people are women. But not all of them.
So in honor of Father's Day this weekend, now seems like the perfect time to share some of the wonderful dads out there helping to get kids outside.
Mark from Adventure Parents
Wanna have an active, adventurous and outdoorsy family? So does Mark. Adventure Parents isn't always about how to make outdoor adventure as a family easier (after all, he says, it's a lot of work). Mark shares everything from stories about ordinary kids and/or parents pulling off neat adventures to outdoor related news and cool gadgets.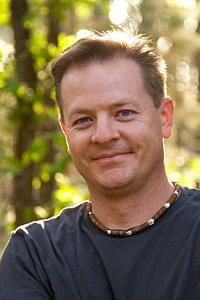 It's Mark from Adventure Parents!
Ken from Big Grey Rocks
This blog's tagline tells it all: "We're an outdoor family. I'm an outdoor dad. My sons are outdoor kids. We hike, bike, snowshoe, ski and more in the Canadian Rocky Mountains. It's the wildest backyard on earth, and we'd like to share it with you, your kids and your family."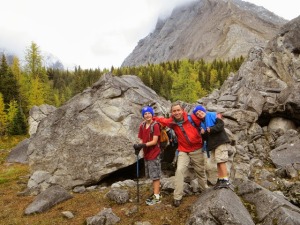 Ken & his boys
Michael from Exploring Portland's Natural Areas
Michael and his son Patrick spend a lot of time outside exploring Portland's natural spaces. If you live in the area, this is a must-read blog. But even if you don't, you'll be inspired by the fabulous photos and "Monday thought of the week" feature. Michael is a big supporter of the children and nature movement and a genuinely nice guy.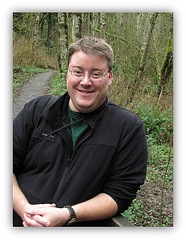 That's Michael in Portland
Matt from Our Days Are Just Filled
Matt and his wife have a simple goal: To raise kids who will be independent, competent and confident. Their feeling is that this kind of kid comes from parents who get their kids outdoors and give them room to grow. Matt's blog is all about their efforts to raise kids outside.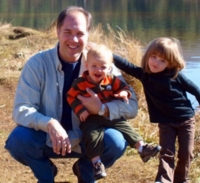 Matt & his little explorers
Mike from Playborhood
What's a playborhood? A neighborhood where kids play freely every day. Mike's worked hard to create one for his three boys in Menlo Park, CA, and hopes to inspire us all to do the same. In fact, he just published a how-to book just for that purpose, "Playborhood: Turn Your Neighborhood Into a Place for Play."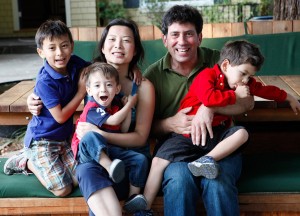 Mike & his playful clan
Alex from Playgroundology
Alex describes Playgroundology as "a blog that scours the web for all things bright, beautiful and occasionally tarnished about the world of playgrounds." Sure, there's a lot of talk about playgrounds here; but there's also a lot of inspiration to get outside and play – wherever that might take you. His mantra to "get out, get active, play, play, play …" says it all.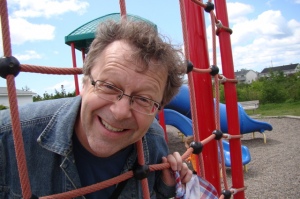 Look at how fun Alex is!
Who am I missing? If you are a dad who blogs about your family's outdoor adventures, I want to know!