I'm not a serious photographer. I don't own a fancy SLR camera. I don't even use my point-and-shoot digital camera that much anymore. With two kids and all their stuff in tow on most days, I now capture almost all of my images on my iPhone.
So how do I get blog-worthy photos of our outdoor adventures without worrying about focal length or shutter speed? Here are a few non-technical tips that work for me.
Try a new perspective.
What does the world look like when you get down on the ground? Up high? At kid level?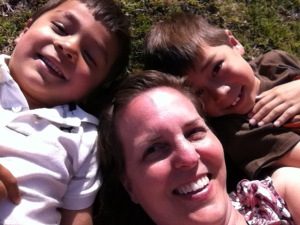 A self-portrait of us cloud watching.
Take lots of photos.
The more pictures you take, the better the odds of getting a good one. And if you're trying to capture active kids, more photos mean more chances of that perfect shot. Plus some funny ones, too.
Keep it fun.
I hate posed photographs. I avoid them at all costs, taking them only during holidays (for other family members' sake) and only if I also take a less-stuffy shot as well. I want to remember what we were really like, not just what I wish we were like.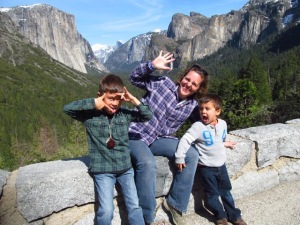 We took a posed version, too, but I much prefer this one.
Don't forget the little things.
Beautiful flowers. Tall trees. Campfire s'mores. Little sandy feet. Dirty hands and faces. That worm you wished your kid didn't squash. Temper tantrums. They are all part of the outdoor experience with kids. And all are worth remembering.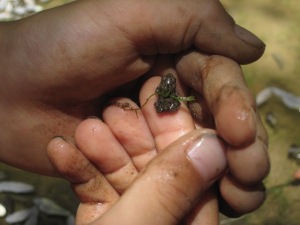 Little hands capture an even littler frog.
Catch them when they're not looking.
If I can capture a moment – one where The Explorers don't even see me (or don't care that I'm there) – I have succeeded. These are the most natural, emotion-filled shots you can get.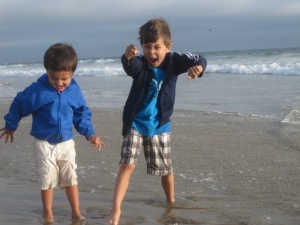 I was only a few feet away, but neither of them cared.
Know when to put the camera down.
One of the most important parts of spending time outside and in nature is in the being. The connecting. Enjoying the moment. Give yourself – and your family – a chance to explore and play without trying to snap a picture of it all. Sometimes the images in your mind are more important.
Your turn! What's your best advice for taking great photos of your outdoor adventures?