Our hike to Mirror Lake earlier this spring ranks up there as one of my favorites ever as a family. Yes, I love hiking just about anywhere in Yosemite. But what I love about the trail to Mirror Lake is that it offers a little something for everyone.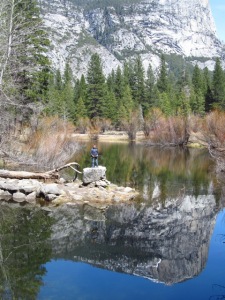 Why they call it Mirror Lake
At 2 miles round trip and little-to-no elevation gain, it's easily manageable with kids either in backpacks, on foot or even on bikes. For the younger crowd (let's say, the 4s and 7s for the sake of argument), there is plenty to do along the trail.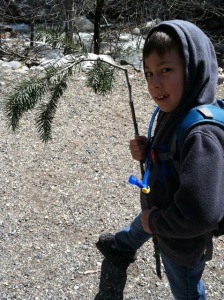 A boy & his scythe
For starters, there are the trees and river running right alongside most of the trail. There are loads of rocks of all sizes for little ones eager to try bouldering. The Explorers also enjoyed seeking out the perfect walking stick from among the hundreds lying around. And then there were the amazing stacked rock sculptures we spotted directly across from the Lake.
And what is there for parents, you ask? If you visit when the water level is high enough (usually in the spring) and calm enough, you'll catch some breathtaking reflections of the surrounding cliffs in the Lake. That and one of the closest views of Half Dome you'll find anywhere in the park.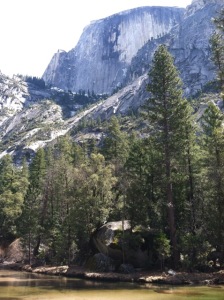 Just keep in mind that Mirror Lake is less of a lake and more of a pond for most of the year, so timing your visit just right is key. The trail can be hot and definitely crowded during the summer.
This hike could be completed in a hour or so, but I highly recommend you take your time. This is one of those spots that begs you to stop and enjoy the view. And don't forget to play along the way.
Trail Highlights
Tons of fun nature exploring for kids to do along the trail
Amazing views of Half Dome & Mount Watkins (that is, when the water level is high enough, usually in spring)
Look for reflections of the surrounding cliffs in the Lake
The stacked rock sculptures we discovered along the trail
Exhibits detail the story of the area's lake-to-meadow succession
Distance: 2 miles round trip
Difficulty: Easy; most of the trail is paved & wide with a 100-foot elevation gain – though it is at 4,000 feet
Starts From: Mirror Lake trail head (shuttle stop #17)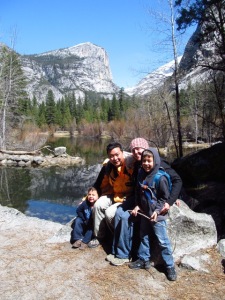 Practical Matters
Trail is paved (it's actually a wide vehicle-free road that's also perfect for bikes)
Estimated hike time is about an hour, but we found lots to do along the way & easily spent several hours including hike time & a picnic lunch
Bathrooms can be found along the trail near Mirror Lake
No concessions available along the route
No picnic tables, either
Summer visits can be crowded & hot, so plan to hit this one off-season
Looking for more things to do in Yosemite with kids? Check out An Insider's Guide to Exploring Yosemite National Park With Kids.