This year's gift guide is dedicated to backyard nature fun – the items that come in handy when heading out your back door to go exploring.
While these goodies can come in handy and are fun for little ones to open during the holidays, the truth is, all you really need when it comes to exploring nature is your time and a sense of wonder.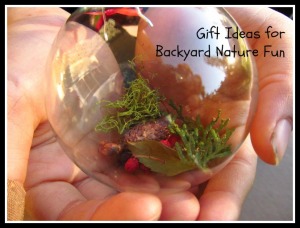 Bicycle and/or scooter
Our neighborhood nature exploring is split between that taking place on foot and that on either a bicycle or a scooter. Whatever you purchase, make sure the equipment is matched to your child's size and skill level. And don't forget the helmets.
Binoculars
Until we were hit by the backyard bird watching bug, I couldn't think of any reason to have binoculars handy at home. Look for kid-friendly, indestructible toy binoculars for toddlers and preschoolers; school-age kids are ready for something a little more advanced that offers a larger field of vision. Both can be found for less than $25.
Bubbles
These are a must-have for dreary days as well as sunny ones. Bubbles are essential for perking up reluctant explorers.
Bug container
I cannot count how many different species of insect have had temporary homes in one or more of the kids' bug containers. Since they are relatively inexpensive, we have bug containers in a variety of shapes and sizes.
Camera
Because taking pictures of nature helps kids feel like they get to keep a piece of it – or at least capture a moment. Two pieces of advice when it comes to buying a camera for kids: Don't buy a plastic camera made just for kids (they're awkward and the picture quality stinks) and don't buy new.
Field guides
We rely on Google to help us make an educated guess about the name of an unfamiliar species, but our field guides give us more detailed information. Our most used are guides to identifying birds, trees and insects.
Flashlight
An essential for nighttime walks. Look for flashlights that are easy for your child to use and carry.
Magnifying glass
We have a nice supply of magnifying glasses since the Explorers are big fans of bug hunting. The kids are partial to those with a large lens, as well as one with a glass lens that once belonged to my dad.
Microscope
Got a school-aged science lover in your house? The Big Explorer loves taking a closer look at finds from the backyard using the microscope we bought him last Christmas. We opted for the Magic School Bus Microscope Lab for price (it's less than $25) and kid-friendliness.
Tools for digging in the dirt, sand & snow
Our plastic shovels get used more than any other item in our backyard. Buckets come in handy during the summer.
Umbrella
We use ours in the rain and in the heat. Mostly, they just make playing in the rain more fun.
And now, even MORE gift lists for outdoor kids and families worth a look-see:
Your turn – what's your must-have items for exploring nature in your own backyard?