Nature fun idea No. 1 on our Countdown to Christmas list was to string popcorn and cranberry garland for the birds.
This is one of those activities best done slowly. There's no reason to rush. The fun is in sitting together, connecting and trying to see what kind of creations you can come up with. Allow anywhere from 15 minutes to much longer, depending on your child's interest.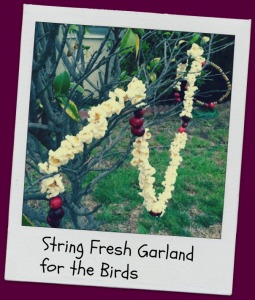 Here are the supplies we used to create our fresh garland for the birds:
Freshly popped popcorn (of the unsalted & unbuttered variety)
Fresh cranberries
Toasted oats cereal (a la Cheerios), optional
Thick-ish thread (we used upholstery thread), fishing line or the like
A big-ish needle (with a large enough eye to thread something thicker than usual thread & a large enough point to poke through a fresh cranberry)
Scissors
A few tips for fun and success making fresh garland for the birds with kids:
Know your child's comfort & safety level using a sharp needle. Assist accordingly.
Use cranberries for the end knots.
Consider using a thimble. The Big Explorer & I both stuck ourselves a couple of times.
Stringing popcorn can be a challenge! Push the needle through the center of the popcorn – it's the strongest part.
Don't go for a pattern; have fun with your design!
Mix up the length of the strands. Smaller birds might prefer shorter strands to longer ones.
This activity can easily be adapted for younger kids (like The Little Explorer). Simply skip the needle & have your child string toasted oats & cranberries on a floral wire.
If you're as much of a wildlife lover as I am, you may still have one question: 
Is it safe to feed popcorn, toasted oats and fresh cranberries to wild birds?
After scanning various reputable organizations online, here's some info I've gathered:
Many birds (including blue jays & crows) & squirrels are happy to enjoy some popcorn. In fact, much of our popcorn was gone the morning after we hung our garland up!
The cranberries are more for color than a meal; most birds have little interest in uncooked cranberries.
Toasted oats are easy for younger kids to string, but might not be that popular with the wildlife.
Consider adding fruit, dried apples & raisins for better luck.
Other DIY options for feeding the birds this holiday season (and all winter long) include:
Tune in for more Christmas nature fun all week.