Happy New Year! I hope you're ready to get exploring because today I'm excited to be kicking off 31 Days of Backyard Nature Fun. My goal? To help you get outside and into nature with your kids – right in your own backyard.
Every day this month I'll offer up a simple, fun way to get outside exploring the natural world. Activities are designed to be doable in 15 minutes or less in your own backyard, neighborhood or at a local park.
Ready? Good! Let's go!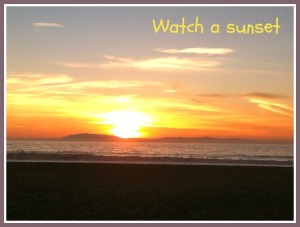 Day 1: Watch a sunset.
See – I told you this was gonna be easy! Your assignment today is to spend at least 15 minutes watching the sunset with your young explorer(s).
Any place right outside your front door will do. But if you happen to have some extra time, consider picking a special spot (we like the beach), this being the first sunset of the New Year and all.
Make sure to show up at the right time (you can check the times for sunsets worldwide here). And don't forget to keep both you and the kids comfortable! Dress for the weather and bring along a warm blanket (hot cocoa might be a good idea, too).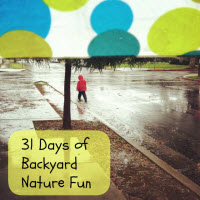 Just joining us? Catch up on what we're up to at 31 Days of Backyard Nature Fun.