Welcome to Day 11 of 31 Days of Backyard Nature Fun, a month-long series offering simple ways to get outside exploring the natural world. To catch up on what we've been up to, you might want to head here.
Even before he had words, The Big Explorer was fascinated with the moon. When he was old enough, he called it a "ball," then "full moon" or "part moon" depending on the time of the month.
These days he's still fascinated by the moon – although in an entirely new way. He's in awe of the spaceships that allowed humans to explore it. And during our New Year's stint at the beach, we talked about how the moon impacts the tides. It was a very concrete connection he could make between the Earth we live on and that huge world of space beyond.
I love moments like that.
If you've got a moon lover in your household, this activity is for you! Big shout out to my good friend Suz for sharing this idea with us. (Suz is the author of Fed Up with Frenzy, a how-to guide for slowing down and creating more distraction-free time with your kids. She also blogs over at Slow Family Online.)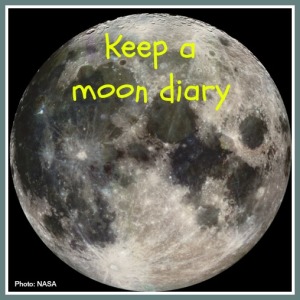 Day 11: Keep a moon diary.
The changing moon is a source of fascination for people of all ages.
Scientists, from ancient Babylonia to modern countries around the world, have attempted to explore it. Ancient people used the full moons to determine their calendars, and Native Americans named the full moons according to the activities that took place under them, such as harvesting and the first shoots of corn. The moon's pull is tied to our tides and even our bodies. Many migratory animals are guided by the moon.
Why not make your own moon explorations and observations by keeping a moon diary?
Taking note of the moon's phases and rhythms, as it moves through its cycle, is a great way to feel the rhythms of our lives and of nature. It can help younger children understand how long a month is. Of course, everyone has fun searching for the "Man in the Moon." Look outside during the next full moon to try to find him.
For more details, head over to see how to keep a moon diary at Slow Family Online.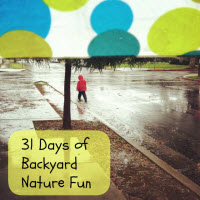 Just joining us? Catch up on what we're up to at 31 Days of Backyard Nature Fun.