If you spend much time exploring nature with kids, you know one tool worth having on your adventures is a pair of binoculars. Binoculars come in handy for spotting wildlife whether you're on the trails or just doing some backyard bird watching.
But which binoculars are best for kids? That actually depends on a few things – like your child's age, ability and interest level. For example, The Little Explorer needs something more durable than functional, while The Big Explorer is interested in binoculars that are compact, lightweight and look like mom's.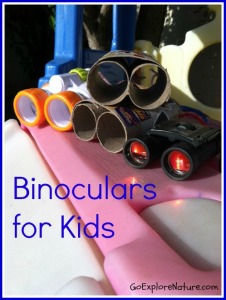 A simple search for kid's binoculars on Amazon yields pages of results. Here's the scoop on three binoculars for kids that we've put to the test.
DIY Toilet Paper Roll Binoculars
The simplest binoculars are those you make yourself. To create a pair, you'll need 3 toilet paper rolls, a stapler, scissors, crayons and stickers, and yarn (optional).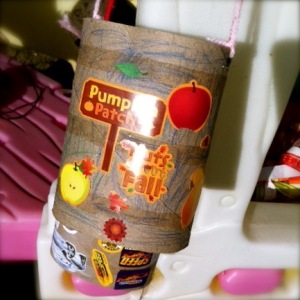 Once you have your supplies:
Staple two toilet paper rolls together side by side. (This is a job for parents.)
Cut the third roll long-ways once.
Wrap the cut roll around the other two. Staple in place for added stability.
Add a piece of string for a neck strap (optional).
Color & add stickers as desired.
Best for: The preschool & under crowd
Features: Hand-made construction allows for lots of personalization and imagination!
Price: Free
Bottom line: A great option for young kids who are just beginning to explore nature up close. Do not provide magnification or focus. May not stand up well to long-term use.
Fisher-Price Kid-Tough Binoculars
"Built to survive drop, after drop, after drop!" The Fisher-Price Kid-Tough Binoculars have created a kid-friendly pair of binoculars that are comfortable, functional and nearly indestructible. What's not to like?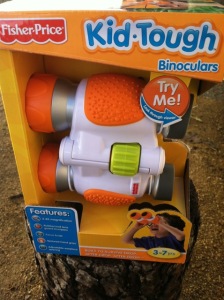 Best for: Designed for kids 3 to 7; ideal for the rough-and-tumble crowd
Features: Comfortable eyepieces, rubberized lens guard bumpers, 4x magnification, focus knob, textured hand grips, adjustable eyepiece spacing and breakaway neck strap.
Price: $14.99
Note: I bought these for $14.99 in January 2013 and now see that the price on Amazon has skyrocketed. My guess is that as more items become available, prices will drop again.
Bottom line: These are a solid pair of preschool binoculars that won't break when dropped (repeatedly). The manufacturer age says 3 to 7, but older kids will likely be ready to move on to a pair of binoculars with higher magnification.
Lucky Bums Kids Binoculars
The young grade-school crowd is likely ready for binoculars that allow for a good view – and look and function more like mom and dad's own binoculars. The Lucky Bums Kids Binoculars fit the bill.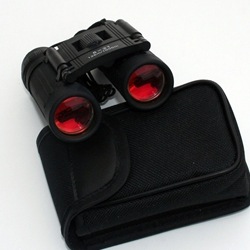 Best for: 5 years and up
Features: Compact, lightweight, durable construction with 10x magnification. Comes with a neck strap, carrying case and lens wipe. They're rubber armored, water resistant and can hold an image sharp and steady.
Price: $19.99
Bottom line: The Big Explorer loves his Lucky Bums. They're designed to fit a child's face, are lightweight and easy to use.
You can check out a great overview on choosing binoculars for kids at Optics4birding. And Lindsey from OutsideMom.com has some helpful tips for teaching children to use binoculars.
Note: I purchased both the Fisher-Price and Lucky Bums binoculars for personal use. Neither manufacturer had any idea I would feature their products here. All opinions expressed are my own and those of The Explorers. You can read my full disclosure policy for more information.