We've been busy in The Big Explorer's school garden, where another mom and I spend every Friday afternoon with the 6 and under crowd.
Spring planting is right around the corner, along with lots of other fun garden activities for kids. In preparation for what's ahead, we've been talking a lot lately about seeds.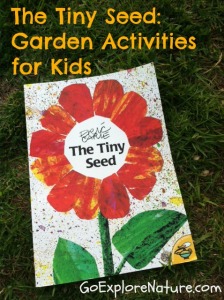 The book: We started our seed studies by reading The Tiny Seed, a picture book about the life cycle of the seed. The story starts in the Fall and follows several seeds on their journey from seed to flower throughout the seasons. While many other larger, faster seeds don't survive the process, one tiny seed becomes a very tall flower. When Fall returns, the flower releases its seeds and the cycle begins again.
The Tiny Seed is geared toward kids 4 and up. Those familiar with author Eric Carle from other titles such as The Hungry Caterpillar and Brown Bear, Brown Bear, What Do You See? will enjoy the same bright colors and whimsical illustrations.
Garden activities for kids: The Tiny Seed lends itself to all sorts of simple seed-themed garden activities for kids. Here are a few things we did:
Talk about what seeds need to grow. The Tiny Seed shows what keeps a seed from growing. But what does a seed needs to survive?
Take a close look at different types of seeds. Are they big? Small? Do they look tough enough to survive? Do they look like the flower or vegetable they grow into?
Grow seeds indoors. All you need is a small container, a little soil and a seed. Add water and place in a spot that gets some sunlight. Then wait to see what happens!
Plant seeds outside (if weather permits). Here in Los Angeles, we are lucky enough to have warm enough temperatures for winter planting.
Draw a picture of a seed. Include the things your seed will need to grow, too (like sunlight, water and dirt). You can also draw pictures as your seed begins to sprout and grow.
Measure your seed's growth. Use a ruler to measure how much your seed grows over time. If you are lucky enough to be able to plant outside, compare the growth of the seeds indoors to those outside. Which does better? Why?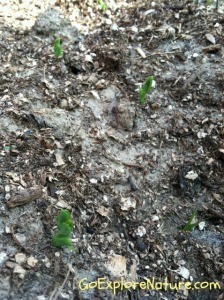 Note: I purchased The Tiny Seed for personal use. All opinions expressed are my own. You can read my complete disclosure policy for more information.