Show of hands please: How many of you take a ton of pictures of your kids in nature, then never actually do anything with said photos? Yeah. Us, too.
In addition to the most common use – printing and framing favorite shots – here are three ways we're getting our family nature pictures out of the computer and into the real world. (And please excuse the poor quality of these photos; I'm still no good at taking indoor shots.)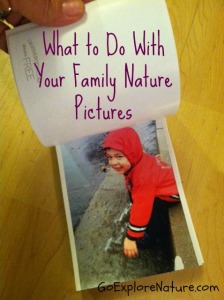 Photo Book
You're probably already familiar with this one. Using very simple software, you upload your digital photos into an album. Usually you can choose a theme for your album (like travel), in which case the program will even add fun design elements to your book.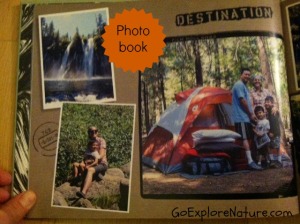 Best for: Trips, special events, sharing photos with friends & family
Price: It ranges depending on the type of book, page size, number of pages, etc. We usually don't spend more than $30 (less if we have an online coupon).
Bottom line: Tons of online sites to choose from and lots of pre-designed formats make this a great choice for nature travel pictures. The downside is that it still takes time to choose which photos you want to use, upload them and compose the album.
Photo Canvas
You can now have pictures you've taken printed onto canvas, which basically turns your favorite family nature pictures into personalized works of art.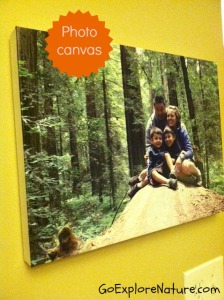 Best for: A select few family pictures you want to feature in your home
Price: Again, it ranges on the size of the canvas. We purchased our 12×16 canvas print through Costco for about $35, which was their least expensive option.
Bottom line: A great way to highlight a favorite family photo – maybe once a year. After all, how much wall space do you have?
GrooveBook
What's that you ask? Haven't heard of this one, I bet. Groovebook is a FREE app you can download to your iPhone or Android that allows you to turn your phone's camera roll into a 4.5″ x 6.5″ printed photo book mailed to you monthly.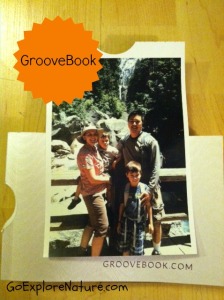 GrooveBook features include:
Photos printed on glossy paper that are perforated for easy removal;
Your choice of which photos from your camera roll to include & how many of each;
The ability to receive a book each month featuring up to 100 pictures – you pay only a nominal shipping & processing fee;
A reminder each month to upload your images for your free monthly book.
Best for: Smartphone camera addicts who don't upload their photos regularly to their computer or another photo storage service. Also great for making themed books for the kids (like a nature ABC book).
Price: $2.99 monthly subscription fee (which covers the cost of shipping & processing). The photo books are 100% free.
Bottom line: GrooveBook is a godsend for all those photos you take but never have time to print. Uploading photos is easy and takes only a few minutes.
My only beefs are these: Although I'm sure the prints will work fine in a frame, the photos are pretty flimsy. And photos taken horizontally will print with the black space you see on your screen (Instagram photos also do not fill the space entirely). But the price really can't be beat.
If you'd like to give GrooveBook a try, you're in luck! Go Explore Nature readers can enjoy free shipping and processing for the first month! To get your first 100 pictures free:
Download the GrooveBook FREE app.
Enter in your credit card information, which is required to sign up for the subscription service. (You may cancel your subscription at any time.)
Use the code "GOEXPLOREGROOVE" to get your first book free and with no shipping fee!
Note: I received a complimentary GrooveBook in exchange for my honest review with you here. All opinions expressed are my own. Check out my complete disclosure policy for more information.
What's your favorite way to enjoy your family nature pictures?