Today, I'm happy to be joining a group of wonderful bloggers participating in the "100 Days of Play Blog Hop" hosted by Sun Scholars and Life at the Zoo. Every day between April 1 and July 20, 2013, a different blogger is sharing one easy play idea to help you connect with your kids.
Now it's my turn and as you might have guessed, I'm sharing a simple idea for outdoor nature play.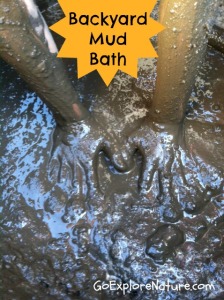 Backyard mud bath
Warning: This is not an activity for those who cringe at the sight of a little dirt (which is none of you, right?). The goal here is to get as messy as possible!
To make a backyard mud bath:
Find a large container. We used a galvanized tub, but as long as the container is big enough to get hands and feet into, you're good. (Or consider going big and use a kiddie pool to create a giant mud pit.)
Set up the container in a fairly open space. This is important so that stray mud doesn't find its way onto things it shouldn't be on (like garage doors, back doors, house windows etc.). And yes, I learned this lesson the hard way.
Have the kids add dirt and water until they are happy with the consistency of the mud.
Encourage the kids to apply mud to hands, arms, feet and legs as desired.
I can promise that no two mud baths will ever be the same. After The Explorers covered themselves in mud, they made mud pies, muddy hand prints and a mud run. They laid out in the sun to help the mud harden on their skin. Then they had a mud fight, which is when things got really messy.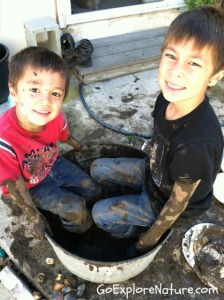 To make clean up a little easier:
Dress the part. Make sure the kids are wearing clothes that can get dirty. Some may prefer to strip down or wear a bathing suit instead of play clothes.
Have a wash down station prepared in advance. It could be as simple as a hose or a bucket of soapy water. The goal is to wash off as much mud as possible from both clothes and bodies before entering the house.
Make a beeline to the bath or shower.
100 Days of Play Blog Hop
Sharing simple ideas on how to connect with your children through play!
New ideas shared each day from April 1 through July 20, 2013.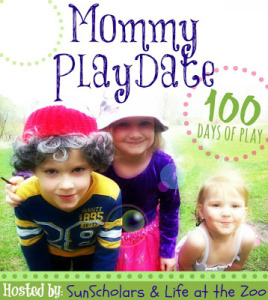 100 Days of Play is brought to you by these wonderful bloggers:
SunScholars . Frogs, Snails & Puppy Dog Tails . Playful Learners . Train Up a Child . Fantastic Fun & Learning . Scribble, Doodle & Draw . Learn. Create. Love. . Mom to 2 Posh Lil Divas . Nothing if Not Intentional . My Little 3 & Me . Buggy & Buddy . Sun Hats & Wellie Boots . Twodaloo . True Aim . The Educators' Spin On It . Blog Me Mom . Life At The Zoo . Putti's World . Kitchen Counter Chronicles . Triple T Mum . Busy Kids Happy Mom . Crystal's Tiny Treasures . Rainy Day Mum . Momma's Fun World . My Little Bookcase . Craftulate . One Perfect Day . MumCentral . Artchoo! . Creative World Of Varya . Simple. Home. Blessings. . JDaniel4's Mom . NurtureStore . Me & Marie Learning . Child Central Station . Mamas Like Me . Mama Miss . Making Boys Men . Powerful Mothering . Craft to Art . 3 Dinosaurs . Domestic Goddesque . Lessons Learnt Journal . Royal Baloo . Smiling Like Sunshine . Adventures at Home with Mum . B-Inspired Mama . PragmaticMom . Eazy Peazy Mealz . Gluesticks . TheBoy&Me . Learning is Messy . My Nearest & Dearest . Growing Book by Book . How to Run a Home Daycare . Here Come the Girls . Think Magnet . Dandelions Picked . 123 Homeschool 4 Me . Our Ordinary Life . Parenting with Professor Poppins . 2 Little Hooligans . Fun-a-Day! . The Non-Martha Mamma . Angelique Felix . My Very Educated Mother . Creative Playhouse . Go Explore Nature . Zing Zing Tree . Sense of Wonder . Childhood 101 . Crayon Freckles . KZ & Me . Serenity You . This Mumma's Life . Leapfrog & Ladybugs . Blue Bear Wood . Growing Together . KC EDventures . Mommy Lessons 101 . Nature & Play . Like Mama Like Daughter . Mums Make Lists . From Wine to Whine . Messy Kids . Babble Dabble Do . Sugar Aunts . Teaching @ Home . Preschool Powol Packets . Clothed in Love . Curiosity Creates . The Magnolia Barn . Strong Start . Stay-at-Home Mom Survival Guide . Learn with Play at Home . Mummy… Mummy… MUM! . Science Sparks . Toddler Approved . Thrive 360 Living . Rockabye Butterfly . Mud Hut Mama . Coffee Cups & Crayons . Playing with Words 365 . My Lil Love Bugs . Creative Connections for Kids . LalyMom . Love, Play, Learn . Kindergarten & Preschool for Parents & Teachers . The Pleasantest Thing . Teach Beside Me