After an almost two year hiatus, Fun Fridays are back! Re-energized, re-envisioned and ready to go, Fun Fridays will feature simple, seasonal ideas for getting kids outside and into nature.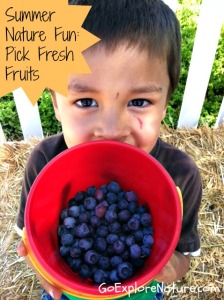 Cherries, blueberries, strawberries and watermelons, oh my! Summer is the sweetest time to head out to a local farm and pick fresh fruits. To find a pick-your-own farm near you, head to pickyourown.org.
To make the most of your adventure:
Call ahead. Fruit availability can change almost daily, so find out before you go how much and what variety is ripe for the picking.
Come prepared. Most farms operate on a cash-only basis, so make sure you bring enough. Also, summer fruit picking can get pretty hot. Bring hats, sunscreen and more water than you think you'll need.
Discuss the picking rules. Each farm has their own rules for picking; make sure your kiddos understand and respect them.
Have fun! Spend only as much time picking as your kids' interests allow. Then find a shady spot for a picnic or fruity snack.
Looking for more ways to get the kids outside and into nature this summer? Check out 50 ideas for your summer outdoor bucket list.