Kids playing outside and summer go together like birds of a feather, right? Not necessarily, says a new report from the National Wildlife Federation.
In fact, weather (both cold and hot) is the No. 1 reason parents cited for not letting kids play outside. (See the full report at The Forecast Calls for Play.) That's pretty powerful stuff.
There's reason to be concerned when the temps start to soar. Heat exhaustion is nothing to laugh about – especially since kids are at higher risk than adults. But summer is also the perfect opportunity for kids to spend loads of time outside exploring nature.
So how to stay cool outside on hot days?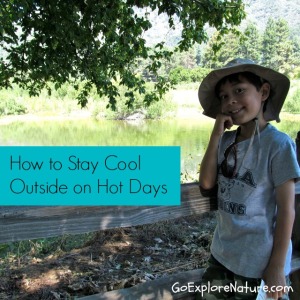 Decide when it's safe to be outside.
Stay inside during extreme heat – which actually involves knowing more than just the temperature outside. Check your local weather report for heat index and air quality, too. These factors will help you better decide how safe it is to be outside.
On warm days, it's best to stay inside during the hottest parts of the day. Aim to be outside in the early morning (before 10 a.m.) and in the evenings.
Dress for the weather.
Opt for light-weight, light-colored, loose-fitting clothing. Breathable fabrics like cotton are a good idea. And don't forget a hat and sunscreen.
Stay hydrated.
Drink before, during and after you play outside in hot weather. Water is the drink of choice (sports drinks are helpful for high intensity activities and extreme heat). And since the kids won't remember to drink once they get playing, take regular water breaks to make sure they're covered.
Take advantage of water.
We don't have a pool to cool off in, so we depend on simpler forms of water fun in our backyard. A run through sprinklers, spray water bottle tag and sponge play are favorites.
When your summer nature adventures take you beyond the backyard, use water to your advantage. You can:
Cool off at a local splash pad.
Dip your feet in a stream or creek.
Spend a morning at the shore of a beach or lake.
Soak your hat in cold water for a quick cool-down.
Bring along a spray bottle of ice water for a cool mist refresher.
Soak a towel, then place it on your head, neck and arms.
Seek out cover.
This one's simple enough in your own backyard: Set up at least some of the kids' play areas under protective cover. If you don't have something permanent (such as a covered patio), use a large umbrella.
If you're out and about on a hot day, shade becomes even more important. We recently found ourselves on the trail on an unseasonably warm day. Armed only with hats and drinking water, we were forced to take many, many breaks under cover of shade. The good news is, it worked!
Set limits.
While a little hot weather shouldn't keep you from heading outside to enjoy summer adventures, stick to short intervals of play – 15 to 20 minutes at a time on especially warm days.
Enjoy a cold treat.
After spending time outside on a hot day, be forthcoming with the frozen and cold treats. Ice cream, popsicles, fruit smoothies and a glass of cold, fresh lemonade work well for us.
Your turn: What's your best tip for staying cool when it's hot outside?