We just kicked off summer break here – in fine fashion, I might add. We spent the weekend in Big Bear, a mountain getaway roughly 100 miles northeast of Los Angeles.
Although better known for its winter sports, there are a ton of fun summer activities for kids in Big Bear, too. With more then 300 days of sunshine each year, and average temperatures of 80 degrees during the days, its not a bad spot to go exploring this time of year.
We packed a lot into our 2-day stay and still didn't even come close to seeing it all.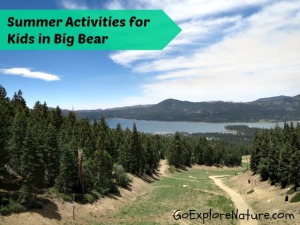 Stop by the Discovery Center
This is the perfect spot to start your visit to Big Bear. The Big Bear Discovery Center provides hiking and biking maps, camping information, naturalist-led programs and more. There's also a store and café.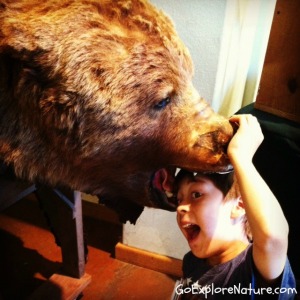 While you're there, check out the Nature Discovery Zone. This amazing nature play area features nine interactive zones designed to encourage outdoor exploration and unstructured play. We liked the nature art, building, climbing and crawling, and music and movement areas. Admission is free.
Check out the Zoo
Big Bear Alpine Zoo is a wildlife animal sanctuary and rehabilitation center. It's the only alpine zoo in the U.S. specializing in alpine wildlife. The Zoo is home to some 160 non-releasable orphaned and injured wildlife representing more than 85 species.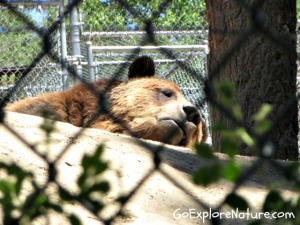 This place is anything but small, and the variety of animals is impressive. Our favorites included the brown bears (aka "grizzlies"), timberwolves, bald eagles, black bears and raccoons. Don't miss feeding time, when an animal keeper leads a free tour around the Zoo grounds. Admission: Adults $9, kids (3 to 10) $6.
Go Hiking
There are dozens of trails to enjoy in Big Bear, from easy strolls around the lake to more challenging hikes into the mountains.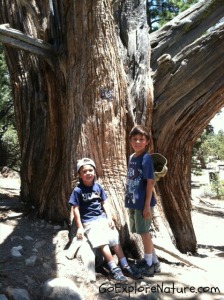 For a family friendly hike, try the Woodland Trail, an easy 1.5-mile loop that features nice views of the lake and surrounding mountains. Pick up a pamphlet at the trailhead and take a self-guided tour along the trail. Sixteen featured stops teach you about the botany, geology and wildlife of the area. Pick up a map of Big Bear trails at the Discovery Center.
Ride the Scenic Sky Chair
Ride Snow Summit's Scenic Sky Chair for incredible views of Big Bear Lake. The mile-long chairlift ride takes you to an elevation of 8,200 feet in 15 minutes.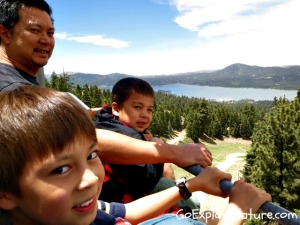 You can combine your ride with lunch at the restaurant at the top, which has a gorgeous deck perfect for taking in the alpine view. Then enjoy a short mile-long walk along the Mountaintop Trail before hopping back on the chairlift for the ride down. More adventurous folks may opt to hike (or bike) down. Roundtrip ride is $14 for adults, $7 for kids 7-15 (kids 6 and under are free). Lift & lunch packages are $22 for adults, $16 for kids.
PLUS more summer activities for kids in Big Bear:
The centerpiece of Big Bear is its 7-mile long freshwater lake. It's a hub for fishing and water sports. You can walk or bike the Alpine Pedal Path, play at the sandy shore, go kayaking or tour the lake on a boat.
The Alpine Water Slide at Magic Mountain. The draw is the water slide, but there are also go-karts and a mini golf course.
Older kids may also want to try mountain biking and/or ziplining.