During our recent two-week stint in Yosemite, The Explorers and I did a whole lot of nothing. Sweet, sweet nothing. Which isn't to say we weren't connecting with nature; quite the opposite, actually.
Case in point: Over the course of several days, we took to gathering natural bits from the area around our cabin for a little project: Nature weaving.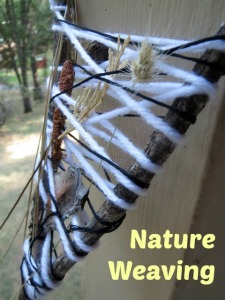 To weave on a branch, you'll need:
A strong "Y" stick (so named for its shape)
String, yarn or ribbon (or a combination of these)
Natural materials to weave into the loom
We had a lot of fun gathering our materials from the meadow in front of our cabin. Although you can certainly accomplish this task in just a few minutes, we spent time over several days seeking out a variety of interesting objects, trying to decide which might fit nicely into our woven stick.
Once you've gathered up your materials, the process of making your nature weaving is pretty straightforward.
Tie your string to the branch at one side of the bottom of the "Y" part of the stick.
Wrap the string around the branch in a figure-eight pattern, which gives the weaving more support.
Tie off your string when you reach the top of the branch.
Repeat with a second color if desired.
Add in natural materials to make your one-of-a-kind creation.
While the kids left the weaving to me (they were convinced I was the only one who could keep the weaving tight enough), they enjoyed hunting for their unique natural items. And each of the boys was very thoughtful about the objects they included in their finished creations.
The idea for weaving on a branch is just one of several included in Time to Create: Hands On Explorations in Process Art for Young Children. Its author – Christie Burnett of Childhood101.com – has put together an amazing resource for parents. (You might have seen Christie's post on making recycled bottle lanterns with kids here a couple months back.)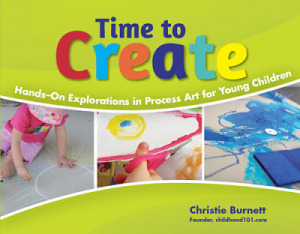 With an emphasis on process over product, the book focuses on encouraging discovery through a variety of art media, with creative ideas for exploring everything from painting and printmaking to digital photography and natural materials.
I love the beautiful color photographs and step-by-step instructions that make Christie's ideas simple enough for even this non-artiste to follow. In addition to nature weaving, the chapter on natural materials includes rock drawing, leaf collage, decorating sticks, using clay with natural materials and more.
Time to Create: Hands On Explorations in Process Art for Young Children is now available in bookstores throughout the U.S. and Canada and internationally through online booksellers, including The Book Depository, Amazon, Fishpond and Barnes & Noble. It sells here in the U.S. for less than $20.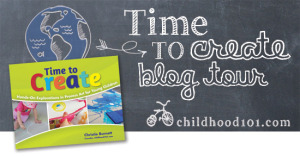 Want to know more about Time to Create? Check out Christie's FAQ page and keep an eye on the following blogs for upcoming stops along the book's international blog tour:
Picklebums . An Everyday Story . Learn With Play At Home . Octavia & Vicky . Sesame Ellis . Nurturestore . Simple Kids . Our Everyday Things . Rainbows Within Reach . Teach Preschool . At Home With Ali . Go Explore Nature . Not Just Cute . Lessons Learnt Journal . PreK+K Sharing . The Imagination Tree
Note: I received a free copy of Time to Create in exchange for providing my honest review with you. Read my full disclosure policy for more information.