Long time readers may remember that I am fortunate to have a family cabin in Yosemite National Park – which explains why we spend as much time as we can there during the summer, at Thanksgiving and whenever else life might allow.
Although I've shared a few of our favorite places to play and explore nature in Wawona, I thought it time to gather everything together in one place. Consider this your insider's guide to a place many visitors to Yosemite National Park never see.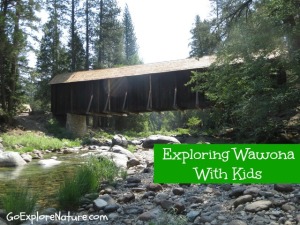 Where is Wawona?
If you're wondering where the heck Wawona is, you're not alone. If you enter Yosemite through the south entrance, you drive right on past it (and its iconic Wawona Hotel) about 10 minutes after entering the park on your way to Yosemite Valley.
Wawona began as a tourist rest stop in the 1850s. A larger hotel was eventually built in the 1870s and the spot became quite popular. Today, Wawona is home to some 200 year-round residents. Populations swell during the summer months, but Wawona still remains less congested than other parts of the park.
What to Do
It takes about 45 minutes to reach the Valley from Wawona and is well worth exploring if you want a break from the crowds. Here you'll find plenty of private watering holes along the Merced River, the chance to stroll through historic buildings, hiking trails and more.
Chilnualna Falls: The first half-mile of this trail is one we visit every time we're in Yosemite. It's great for kids because it's short and offers a close-up view of not one, but two waterfall cascades.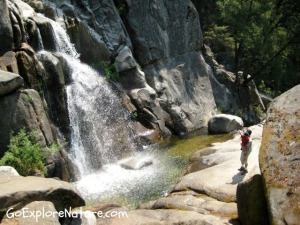 Mariposa Grove of Giant Sequoias: the Mariposa Grove is the park's largest stand of giant sequoias, with about 500 trees. Trails into the grove extend uphill from the trailhead at the far end of the parking area. Interpretive signs between the trailhead and the California Tree provide a self-guiding tour. Free shuttles to the Grove can be picked up outside the Wawona store.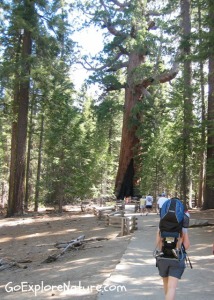 Swinging Bridge Trail: Another relatively crowd-free hike with a great destination – a wobbly bridge and a river with swimming holes. Bring a lunch and you can easily spend a few hours soaking it all in.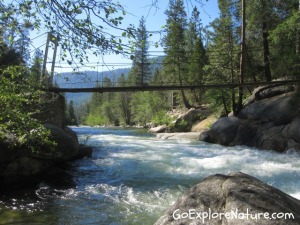 The Pioneer Yosemite History Center: Go back in time as you stroll through a collection of historic log cabin buildings associated with people and events that shaped the Yosemite National Park experience. Enjoy a horse-drawn stage ride, watch blacksmiths at work, go horseback riding or walk across an old covered bridge. The center is always open and interpretive brochures are available.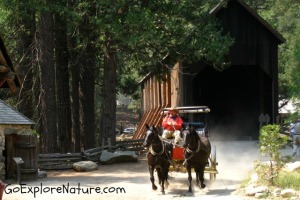 Wawona Meadow Loop: This easy, 3.5-mile trail provides a view of one of Yosemite's largest meadows – with wildflowers galore to see in spring and early summer, and changing leaves in the fall.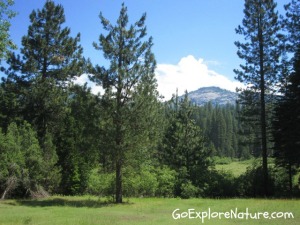 Wawona Visitor's Center at Hills Studio is a great spot to gather information about park activities, wilderness permits, trail information, books and maps. Located adjacent to the Wawona Hotel.
A variety of ranger-led programs take place in Wawona, including coffee talks and interpretive programs. Check your copy of the Yosemite Guide for program dates and times during your stay.
Where to Eat
When it comes to dining in Wawona, your options are somewhat limited. The Wawona Hotel dining room offers sit-down meals for breakfast, lunch and dinner (with a Saturday barbecue during summers). But prices aren't cheap.
On the other end of the spectrum, the Wawona Hotel Golf Shop has a small snack stand with pre-made sandwiches, chips, ice cream and the like. You can also pick up groceries at the Wawona Store and Pioneer Gift Shop.
Where to Stay
Lodging in Wawona is only slightly easier to come by than it is in Yosemite Valley. Your best bet is to book at least a year in advance.
The Wawona Hotel is a National Historic Landmark and Historic Hotel of America. Most of the hotel's 104 guestrooms open onto verandas and are reminiscent of European-style hotel rooms. Housed in six buildings, the Wawona Hotel's rooms are furnished in period pieces and antiques. Guests have access to a dining room, swimming pool and 9-hole golf course. Cost: A sample search for a summer stay for our family of four came in at between $150 and $210/per night.
The Redwoods in Yosemite provide year-round vacation home rentals. Prices range depending on the season and the size of the cabin. Cost: A sample search for a summer rental for our family of four hovered in the $350 to $450/per night range. 
Wawona Campground, located about a mile north of Wawona and 45 minutes from Yosemite Valley, offers family, group and horse campsites. Each of the 93 sites contains a fire ring, picnic table, and food locker. Bathrooms with potable water and flushing toilets are nearby; closest shower is in Yosemite Valley. Cost: $20/night; $14 per night from October through April. You can reserve online from April through September.
Looking for more things to do in Yosemite with kids? Check out An Insider's Guide to Exploring Yosemite National Park With Kids.