When it comes to making hiking fun for kids, I've got you covered. But ideas for yummy food on the trail, not so much. Which is why I am so excited to be welcoming a fellow Los Angeles mom to the blog today to do just that. Not only does Jennifer love getting outside and into nature with her daughter, she also loves to talk food. If you like what you see here, head over to Jennifer's blog MommyHiker.com to read more. Take it away Jennifer!
Two things I'm most passionate about in my life are introducing my daughter to nutritious and delicious foods and allowing her to explore, discover and learn from the wonders that Mother Nature has to offer. So when Debi invited me to do a guest post on hiking meals for kids, I was honored and excited!
Packing lunches on-the-go is pretty commonplace in our household and I have gotten fairly good at keeping the fridge stocked with quick and healthy choices. When doing my weekly shopping, I focus on buying a rainbow of fruits and vegetables to ensure our diet is full of vitamin and mineral goodness.
Another trick I learned and implemented early on in motherhood is to intentionally cook extra at dinner time, so there is a nutritious and filling meal already made for lunch the next day. I cook a LOT as it is and doing this saves me time and pot washing. Win-Win-Win!
One more simple idea I call upon quite frequently are make-ahead meals. In fact, I'm constantly adding new make-ahead meals to my cooking arsenal. Make a bunch ahead and enjoy throughout the week without having to lift a finger! It doesn't get much sweeter.
Here are some of my favorite go-to trail meals. I hope you enjoy!
Wheat Berry Salad
I used to be terrified of a wheat berry. Weren't they weird and unusual and hard to cook? As a matter of fact, that couldn't be farther from the truth!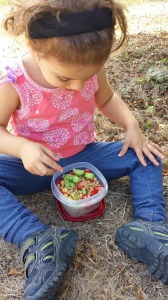 Just soak 2 cups of wheat berries in water overnight in the fridge. Then boil them in 4 cups of your favorite stock, 4 cups of cold water and 2 bay leaves for about an hour. That's it! Rinse and drain them and add whatever tickles your fancy, instant Wheat Berry Salad. I love to add cucumbers, berries and garbanzo beans with a splash of olive oil and lemon.
Crudité
Ok, I know, it's a fancy word, I didn't feel like  "raw veggies" was an adequate headline. But that's all a crudité is, chopped raw veggies. This is, by far, the number one to-go lunch in our house simply because it is the easiest and healthiest.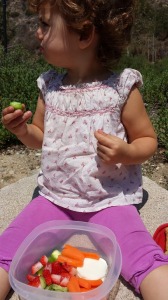 Chop up whatever veggies you see when you open the fridge, throw in some berries, a few chunks of cheese and maybe add an exotic item or two (like olives), and you have the best meal you could ever give to your little angel! It sometimes is really just that simple.
Sesame Soba Pasta Salad
This
Sesame Soba Pasta Salad
is one of my current obsessions. I have made it twice in the last 3 weeks, once for our cousin and his wife who just welcomed their first little angel into the world, and once for us because our 2 year old begged me to make some more!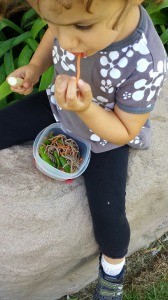 Buckwheat (soba) noodles pack a more powerful nutritional punch than the traditional-style pasta being that it's lower on the glycemic scale, higher in protein and crammed full of unique amino acids. Cook, then gently rinse the soba in cold water, toss in some fresh, raw veggies (like snap peas and shredded carrots), toss in some sesame oil and cilantro and you have a healthy and flavorful trail lunch!
Zucchini Fritters (Mücver)
A bit of history as to why there are a few Mediterranean-inspired dishes on this list. My husband of 15 years was born and raised in Istanbul, so I have adopted many traditional and fusion Mediterranean-style dishes in my repertoire.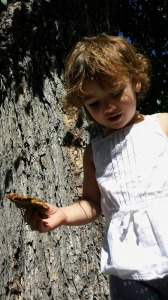 My zucchini fritters (mücver) have been gobbled up by friends and family, toddlers, kids and adults for years. It's a perfect way to sneak veggies in to any kid's diet because they are: Just. That. Good. This recipe takes some time, but is well worth it! Make sure to make a huge batch because they are even better the next day!
Salmon and Green Beans in Olive Oil (Zeytinağlı Fasülye)
This recipe falls under the "last night's leftovers" category. And what better way to recharge mid-hike than some yummy Grilled Salmon and
Green Beans in Olive Oil (Zeytinağlı Fasülye)
?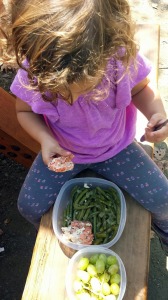 We are major fısh eaters in our family. We probably have fish 3 to 4 times a week, which means we have fish leftovers for lunch a lot and I've been known to get quite creative. One of my favorites is a leftover Salmon Niciose Salad, but on this particular day pictured, it was straightforward leftover yumminess. Add some grapes and you have a trail meal fit for a queen! A Healthy Queen!
What are some of your favorite nutritious and delicious toddler meals for those days when you're mad-dashing or out exploring and discovering with your little angels?

About the Author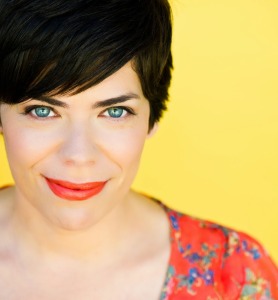 Jennifer Fontaine is a blogger, a wife, a daughter, a sister, a cat lady, a chef, an actor, a film producer and a screenwriter!
I started The Mommy Hiker Blog in the hopes of inspiring other parents to get outdoors with their kids to explore and discover the wonder and beauty of Mother Nature and in doing so, I have inspired myself.