The nature photo hunts I create each season continue to be a big hit around here. So I apologize for the delay in getting this winter's list together.
Without further delay, I am pleased to announce that the 2014 Winter Nature Photo Hunt is now ready! (If you live in the southern hemisphere, you'll want to check out the summer version instead.)
Here's how the winter nature photo hunt works: I've come up with 30 things you and your kiddos can hunt for outside this season. Find an item, snap a picture and check the item off your list.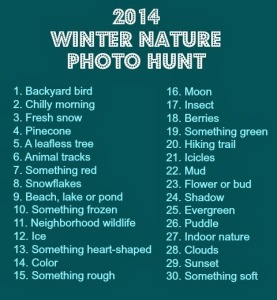 Don't worry if your little explorer isn't an aspiring photographer or sometimes needs your help to snap a shot. The point is to get outside exploring! (You can get a few simple nature photography tips for kids here if you're interested.)
Most items can be found in your own backyard or neighborhood; others might be spotted during a local nature adventure. You may choose to complete the winter photo hunt all at once or play all season long.
However you choose to participate, what matters most is that you and your kiddos get outside exploring nature this winter!
Join the fun!
You don't need to sign up to play. Simply print out the free Winter Nature Photo Hunt list, post it somewhere you'll see it every day, then head outside and into nature with your family and start exploring!
I'll be sharing our pictures on Facebook and Instagram if you'd like to see what we're up to.