Winter's shorter daylight hours come with at least one benefit: The chance to go exploring outside in the dark before bedtime.
There are all kinds of fun ways to explore nature at night, like going on a glow stick walk. (If you don't have a glow stick, don't worry. Try a flashlight walk instead.)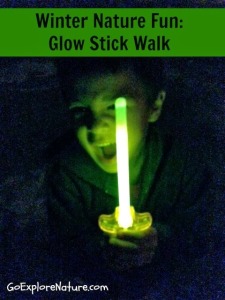 Before you head out, make sure everyone is dressed for the weather. Layer up and bring along hats and gloves if the conditions necessitate it.
Once you're out the door, here are a few things you can do with glow sticks to turn an average walk around the neighborhood into a nature adventure:
Pretend to be captain of a grand expedition and use your stick to light the way.
Get up close and personal with the elements (for instance, the trees and ground). How close do you need to be to see clearly? What can you see?
Stop and listen for the sounds of the night. What do you hear?
Look up and count the stars.
Turn your glow stick into a magic wand. "Turn" items that are one thing (like a bush or tree) into something else (like a butterfly or dragon).
Of course, if you happen to have a sibling or friend along, glow stick sword fights are fun, too.
Looking for more ways to get the kids outside and into nature this winter? Check out 50 ways to connect with nature this winter (with our without snow).