Birds are by far the easiest to see of all wild creatures – no matter where you live or how big or small (or nonexistent) your backyard might be. Which makes bird watching one of the easiest ways for kids to connect with nature right at home.
But is bird watching really fun? If you're not convinced yet, you need to check out Look Up! Bird-Watching in Your Own Backyard. I was hooked after the first paragraph, in which the author (Annette LeBlanc Cate) tells us she's not a professor of ornithology or an expert bird-watcher. In fact, she doesn't even have a pair of working binoculars! She just loves watching and drawing birds and thinks other people should, too.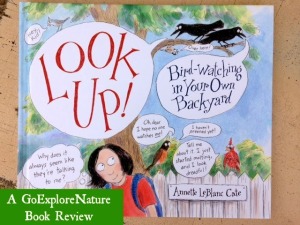 Bird-Watching in Your Own Backyard combines humor with tons of really basic and useful information about birds and bird identification. The 64-page book is geared toward the 8 to 12 crowd, but I'm pretty sure younger kids would find it interesting, too.
What's inside: Bird-Watching in Your Own Backyard emphasizes not just bird watching, but bird sketching as well. Spreads focus on bird features such as color, shape, behavior, feathers, calls, habitat and more. Inside you'll find:
Full-color, detailed illustrations that have a comic-book feel
Tip boxes
Lots of ideas for observing birds right in your own backyard
Funny, entertaining dialogue from the birds themselves
What you'll like:
The price! It sells on Amazon for less than $15.
It's funny and educational at the same time, which I hope will help people realize that bird watching is also fun.
The kid-friendly format features beautiful, full color sketches in a comic-book style that kids will enjoy.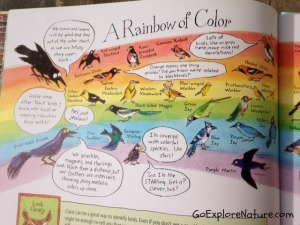 What you might wish was different:
All the thought bubbles can make it hard to know where to read first. I wasn't always sure where to start on each page, or in some cases, where to read next.
This isn't a field guide, so it won't help with specific bird identification. It will, however, help you hone your observation skills so that using a field guide becomes easier.
Note: I purchased a copy of Look Up! Bird-Watching in Your Own Backyard for personal use. I received no compensation of any kind to share my honest review with you here.