Last month, we talked about nature journals for beginners. Today, I've got a book that's perfect for aspiring journalers. We Love Nature: A Keepsake Journal for Families Who Love to Explore the Outdoors is part keepsake journal, part activity book – and it makes for a great place to record your family's nature discoveries.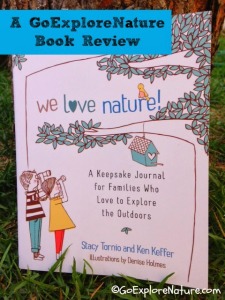 We Love Nature! comes complete with 52 nature activities ranging from the very simple (cloud watching) to the more challenging (paddle a kayak or canoe along a lazy river or lake). At one activity a week, that's a year's worth of nature fun, plus a place to record each of your adventures!
The 144-page We Love Nature! is meant to be completed with kids ages 2 to 8. It can be used as an activity guide, nature journal, sketch pad and keepsake. Think of it as a "book of firsts" for your children's nature adventures.
Authors Stacy Tornio and Ken Keffer are no strangers to connecting kids and nature. They also teamed up to write The Kids' Outdoor Adventure Book (which I thoroughly enjoyed). We Love Nature! sells for about $13 on Amazon.
What's inside: Inside We Love Nature! you'll find:
52 interactive nature activities, some of which can be done in your own backyard, others that take you to a nearby park or beyond.
Short writing prompts and space to write down your thoughts on each experience.
Space to draw, and ideas for what to sketch.
"Dig In" ideas that take each activity to the next level (if desired).
Two color line drawings throughout.
What you'll like:
The nature activities are simple and fun, things every child should do before they grow up.
There are plenty of ideas for what to write and draw – or do your own thing.
The "Dig In" suggestions offer something for older kids to try.
Convenient pocket size makes it easy to take out in the field.
What you might wish was different:
Not enough space for writing and drawing. I'd love to be able to have The Little Explorer write in the book, too, but there's just not enough space for his 5-year-old printing or drawing.
Activities are arranged by increasing level of challenge, but I would prefer they were organized by season.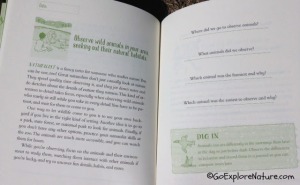 Win a copy of We Love Nature!
If you want to get your hands on a free copy of We Love Nature!, now's your chance. Head to Destination Nature for the full scoop, but here's the gist: Five lucky winners will receive a free copy of the book – and one grand prize winner will get a pair of KEEN shoes, too! Entries are open through March 31, 2014, so enter now.
Note: I received a free copy of We Love Nature! in exchange for providing my honest review with you. Read my full disclosure policy for more information.