In one short week, The Explorers will be out of school for summer. Nine weeks of vacation are almost here. I don't know which of us is more excited, them or me.
Don't get me wrong – there will be lots of bickering, tantrums and frustrating moments. But heck, we have those all year! Summer is a time to slow down, play, explore, savor long, warm evenings and say "yes" more. I can't wait.
In the past, our summers have been divided between family vacations, preschool (for The Little Explorer) and a few day camps for The Big Explorer mixed in. This year, aside from two separate, weeklong vacations, both kids will be free for the entire break.
If I learned one thing this school year, it's that my kids need structure – that is, a predictable pattern to their days. Yes, they need plenty of room for play, but they also need to know what to expect from their days.
Which is how the idea of Camp Mommy was born. Camp Mommy is the name I came up with for our summer vacation plan. One filled with plenty of free time for unstructured play, with some fun outings and activities sprinkled in.
I have to premise this all by reminding you that I'm not a professional educator or a camp counselor. I am merely one mom answering the call to offer my kids what they need at this point in their young lives.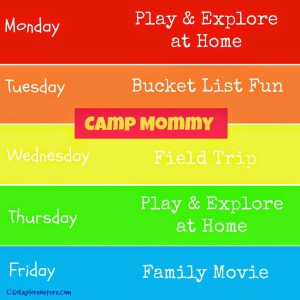 Camp Mommy
Camp Mommy is our summer game plan, and one I think could easily be adapted to fit many families. Use it for one week or the entire summer. Create themed weeks or keep it flexible. The only thing that matters is that you have fun!
Here is how I am planning on loosely structuring our free time:
Mondays & Thursdays: Play & Explore at Home
Both of The Explorers love playing at home, both indoors and out. Which is why I'm making sure they have plenty of time to do just that. Remember that summer outdoor play is best reserved for the coolest times, usually first thing in the morning and early evenings.
The goal is for the majority of the at-home play to be unstructured, with the kids deciding what to do and when. But I do have a few fun ideas up my sleeve, including:
Science experiments
Adventures in cooking
Skills development (like learning to use a pocket knife & build a fire)
Tuesday: Bucket List Fun
Together, we make a
summer bucket list
each year. Some of the ideas are simple, but others require more time (things like berry picking or fishing). This year, I thought it would be helpful to dedicate a day each week to checking off an item on our bucket list.
Wednesday: Field Trip
Each of the kids has a list of places they'd like to head this summer. Instead of trying to hit them all, we'll pick a few and dedicate one day each week to going on a field trip.
Friday: Family Movie
We'll be taking our family movie night plans up a notch this summer. Instead of watching older releases at home, we'll be heading to the theater to watch some of this summer's hits on the big screen.
I hope you'll follow along with our
Camp Mommy
adventures here, on
Instagram
and on
Facebook
. I have no idea how it's going to play out, but I promise to share!
What will you and your kiddos be up to this summer?