When it comes to eating fresh foods from the garden, what sorts of images come to mind? Vegetables, fruits, maybe even herbs? How about flowers?
This non-foodie certainly wasn't thinking of eating flowers. But leave it to our elementary school's master gardener to suggest we put our blooming nasturtiums to use by cooking up something for the kids.
With the school year winding down and plenty of nasturtiums ready for the picking, we decided to treat the students to a nasturtium taste testing right in the school garden.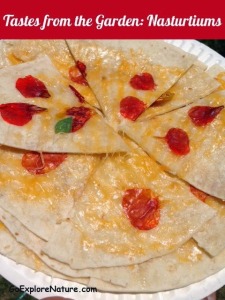 Our plan was simple: Ask some of the older kids (fourth graders) to pick as many nasturtium flowers as they could. Then we used a Panini (sandwich) press to melt some cheese and nasturtium petals onto tortillas. Voila!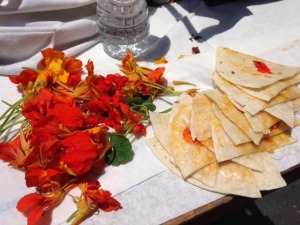 The verdict was split: Some kids thought the nasturtiums were tasty, others not so much. But they pretty much all agreed that it was neat to eat flowers from the garden.
If you're thinking about cooking with flowers from your own garden:
Know which ones are edible. Also, be familiar with which parts of the flower are best for eating.
Pick them fresh and use them fast.