I wasn't always a fan of whale watching. For one thing, I get seasick – like really, really seasick. And the excursions I did manage to brave as a young adult resulted in few actual whale sightings. The weather was usually cloudy, cold and gray, and the enter experience left me rather unimpressed.
Fast forward to last year when Dana Wharf Sportfishing and Whale Watching invited my family out for a day on the water. I decided to give it one last try. You know, for the kids' sake. Guess what? I had a really good time! I dare say I'm a convert. In fact, we enjoyed it so much that we returned again this year.
Now that I've been a few times and I'm armed with some first-hand experiences worth sharing, here is our whale watching advice for Los Angeles families.
The tour operator you choose does make a difference.
I've been whale watching in Los Angeles enough to tell you that the company you go with matters. I prefer a tour operator that provides education along with the ride. I like to know what we're seeing out there and why. And I like a company that's eco-conscious, putting the health and welfare of the animals above any financial incentive to get up close for the perfect picture.
Our go-to choice is Dana Wharf. Yes, it's an hour+ drive from Los Angeles to get to Dana Point Harbor, but it's worth it. We've spotted more whales in this area than farther north in either Newport or Long Beach. Plus, the folks at Dana Wharf are friendly and knowledgeable. We always learn something new about marine animals and the crew shows only the utmost care and respect for these amazing creatures and their home.
Know what to expect before you head out.
You've probably seen lots of amazing pictures of whale tails or whales "breeching" – coming up out of the water and flopping back down with a big splash. While seeing these behaviors is pretty spectacular, there's no guarantee they'll happen on any given cruise. You might see much less exciting things, like just the hint of a whale gliding along the surface of the water.
This is wildlife watching, not a show at SeaWorld, so you never know what you're going to get. Think of your adventure as a marine safari – it'll require lots of patience, good observation skills and a respect for the animals you've come to see. If you don't see what you are hoping for on one trip, you just might need to try again another day!
Keep everyone comfortable.
What do you need to know to keep your family comfortable when you go whale watching?
If you or someone in your family gets motion sick, take the necessary safeguards before you board. (By the way, Michele has some great advice for the best way to prevent seasickness.)
Dress in layers, even on warm days and during the summer. It's usually about 10 to 15 degrees cooler out on the water, and temperatures can shift quickly. Bring a sweatshirt and a jacket, just to be safe.
Stay sun safe! Bring hats, sunglasses and plenty of sunscreen, even in winter months.
Pack snacks. There are usually snacks and other items you can purchase on the ship, but it doesn't hurt to pack some favorites. And don't forget to bring water.
Have fun!
There isn't any specific age requirement to go whale watching, but it might not be for everyone. Most whale watching tours last a couple of hours. Things usually start out pretty exciting as you board the ship, take a look around and then venture out of the harbor. But after an hour or so on the water, even the most patient young explorers (my kids among them) may tire of the waiting, especially if you don't see a lot of animals during your trip.
Our solution is to bring along some items to engage the kids if/when boredom strikes. Our favorites:
Camera
Binoculars
Books about whales and dolphins – so you can read about what you're seeing!
Ocean-themed toys – they're extra fun to play with when you're out on water
Whale and dolphin coloring pages
A journal with a pen, pencil or crayons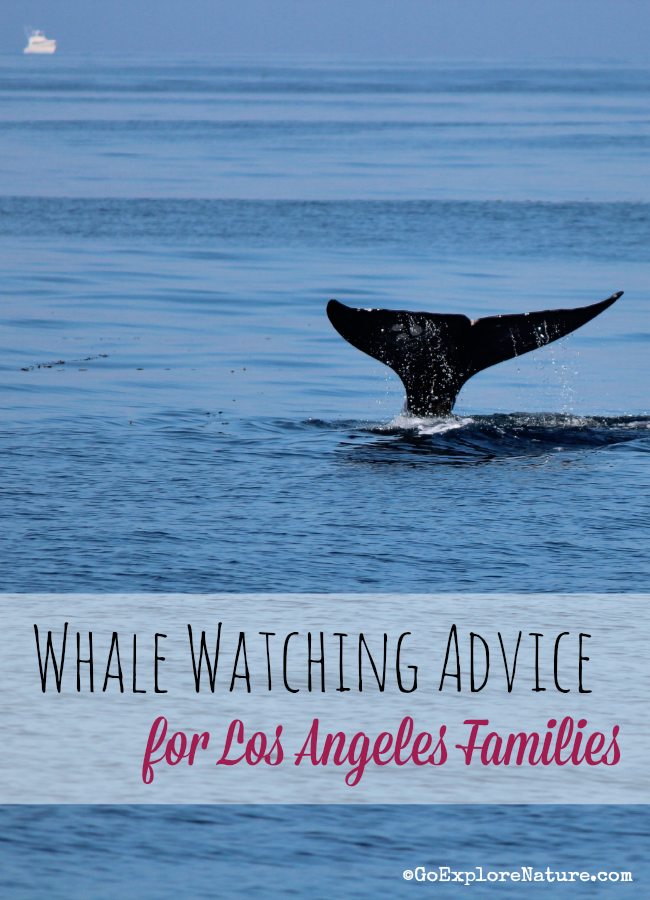 Disclosure: Our longtime supporters at Dana Wharf provided my family with a complimentary trip allowing me to provide some whale watching advice for you. All opinions are my own. Read my full disclosure policy for more information.