I've lived my entire life in Los Angeles and until June of 2015, had never set foot in the Los Angeles River. And if I'm being completely honest about it, I never really had any desire to.
But when I found out that people could take guided kayaking trips on the River, I wanted to know more. It took me two years of reading about these tours online to muster up the courage to finally try it. I brought the 10-year old Big Explorer along with me to see how family friendly the outing might be. Now we're sharing our experience with you so you'll know how to kayak the L.A. River with kids, too!
Learn a little about the River.
If you're like most people (including me), the L.A. River might not even be on your radar. I mean, where is it? Who's taking care of it? Is there any water in it? What do you do when you get there? Is it even safe? Here are a few good things to know before you go:
The Mountains Recreation and Conservation Authority (MRCA), in cooperation with the City and County of Los Angeles and the Army Corps of Engineers, manages the Los Angeles River Recreation Program. They make sure the public stays safe and the River continues to thrive.
During the summer, there are two segments of the River where people can kayak: The Sepulveda Basin River Recreation Zone (in Van Nuys) and the Elysian Valley River Recreation Zone (in Glendale).
Water from the L.A. River comes from Tillman Water Reclamation Plant in Van Nuys and the Los Angeles-Glendale plant in Atwater. Even in a drought, there is enough water to kayak.
The L.A. River is a flood control channel. When it rains, kayaking is not allowed.
The water in the River is certainly safe enough for the limited contact you will encounter while kayaking, but I wouldn't fill my water bottle with it.
If you want to kayak the River with kids, a guided tour is the way to go, especially for beginners. The Sepulveda Basin site is best, as it is a flatwater section with no rapids.
There are a few organizations offering kayak tours of the Sepulveda Basin – Paddle the LA River, LA River Kayaks (partnering with the MRCA) and LA River Expeditions.
Know what to expect.
I'd been following the work of L.A. River Expeditions for a couple of years, so when I received an email reminder that tickets were going on sale, I jumped on it. Since this was the first kayaking experience for The Big Explorer, we opted for the Sepulveda Basin trip, a 2-¼ hour ride along a 2-½ mile section of the river. This is considered the most natural setting of all the River's green stretches and it doesn't disappoint.
Each rider is given a single kayak (even kids) and all the essential equipment you need – paddle, helmet and lifejacket. Before you head out, your guides will also provide some basic paddling instructions so you'll be ready to maneuver on the water.
From the put-in spot, you'll need to pull your boats into the water and over to the starting point before hopping in. (We were both able to do this easily by working together.) The route is an out-and-back: You'll start out heading upstream on calm waters to a turnaround spot, then retrace your route coming back to the original put-in location.
The reason it took me two years to work up the courage to go on this trip is simple: I was terrified. Worried that I'd either tip over or not be able to keep up with the rest of the group. I'm happy to report that neither happened. The kayaks are surprisingly sturdy and easy to navigate. And the guides made sure our group of about 15 stayed together, an important consideration when paddling with kids.
This stretch of the River is lush, quiet and peaceful with lots of opportunities for wildlife watching (we saw lots of birds!). Many of those on our tour were surprised to discover that such a serene setting exists within shouting distance of a major busy street (Burbank Blvd.). I especially liked that our guides stopped at several points along the River to discuss the history of the River and its plants and wild inhabitants.
No previous experience is required for this trip, and children 10 and older are welcome to participate. The course is very calm and narrow in several parts. It's also particularly shallow in some places, so follow your guides' lead to avoid getting stuck.
You don't have to be particularly fit, but little arms may tire out. The Big Explorer (at 10 years old) was able to navigate just fine, but tired out not too long into the outing. (The guides were kind enough to "tow" him along by tying his kayak to theirs.) Stronger kids may be fine, but it's something to keep in mind.
Take care of basics before you get to the River.
There are no bathrooms at the put-in or parking sites, so be sure everyone has gone before you park. (The closest restrooms are about ½-mile up from the parking area on Woodley.)
No matter the weather, lather everyone with sunscreen. Lots and lots of sunscreen. I had no idea just how hot it would get on the water, and my legs burned badly (in spite of putting on sunscreen).
Dress the part.
Although the likelihood of tipping over on this trip is low, you should anticipate getting at least a little wet. The Big Explorer wore his swimsuit and a rash guard; I wore a quick-dry shirt and shorts with my bathing suit underneath. I highly recommend water shoes – just make sure they are close-toed. Don't forget a hat, preferably a baseball style cap that can fit underneath your helmet. (My wide-brimmed sun hat sadly did not.)
Bring only what you need.
You won't be carrying a backpack or bringing a purse with you in the kayak. Store any valuables in your car and plan to pocket whatever essentials you must bring, like your event tickets, ID, lip balm and car keys.
We each wore sunglasses and brought our water bottles, which we placed loose inside our kayaks. I also brought my cell phone to take pictures and wore it around my neck in a waterproof carrying case. I noticed others in our group left their valuables in the back of the tour operator's truck (which was locked while we were out on the water).
Other good things to have in your car for after your kayaking adventure include a towel or two, a change of clothes, something cold to drink and a snack. We were starving!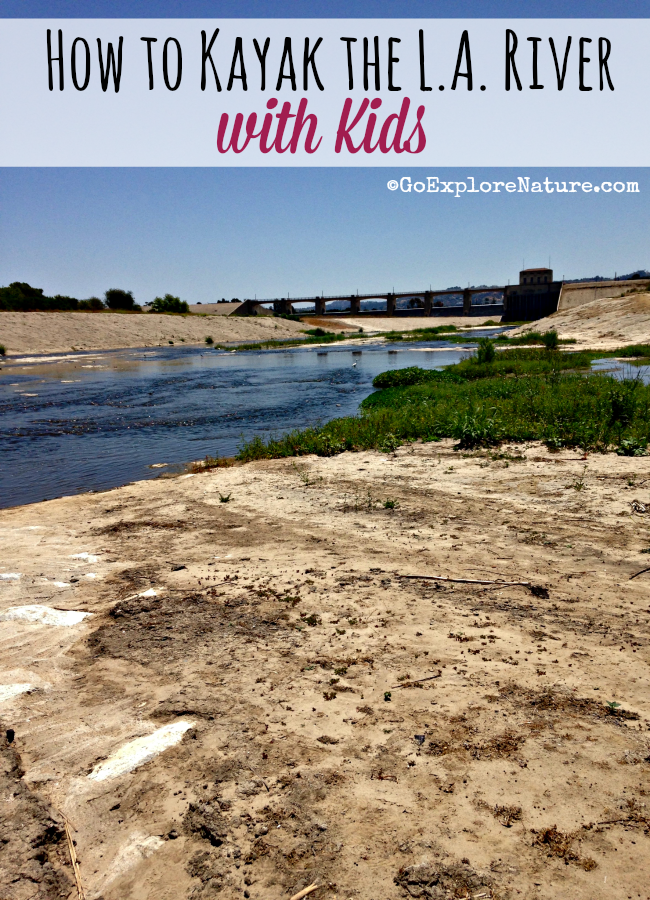 Day Trip Costs (for one adult, one child)
To save: Follow L.A River Expeditions on Facebook for news and coupon codes.
In case you're wondering, L.A. River Expedition guides do not accept tips. They will however, take donations, which are tax-deductible and used to fund trips for under-served youth, as well as to further the organization's mission to act as an advocate for the L.A. River.
Tickets to kayak on the L.A. River are usually available for trips from June through September and sell out fast. Sign up to receive updates from L.A. River Expeditions so you'll know when tickets become available.
More on the L.A. River
The Los Angeles River Recreation Program website from the MRCA is a great resource for all things L.A. River.
If you are kayaking with kids, we highly recommend a guided tour. That said, the public is allowed to kayak in the river in designated areas. Kayak rentals are available on weekends at Marsh Park in Elysian Valley from LA River Kayaks.
Don't want to kayak? Check out the Top 5 Things to Do with Kids on the LA River from ParentPick for more ideas.
Disclosure: We purchased tickets to paddle with LA River Expeditions at our own expense. No compensation of any kind was received for sharing my opinions with you here.