Picking fresh fruit reminds me of my own childhood summers, when I would pick boysenberries off the vines growing in our backyard here in Los Angeles. There were prickly thorns to contend with and messy hands to be sure, but it was worth it to taste those fresh berries.
What I didn't realize before having kids is that you can actually pick your own berries at Underwood Family Farms. From about June through September, the berry trail at the Somis Farm Center opens for picking fun. Varieties include strawberries (June-August), blueberries (June-mid-July), raspberries (June-October) and blackberries (July-August). Of course, availability is weather dependent, so you should always call ahead to see what's ready for picking.
You may already be familiar with the larger Underwood Family Farms location in Moorpark. You can pick lots of vegetables and some berries there, too. But the fields at Somis are much smaller in comparison, meaning little legs won't have to walk as far to get right to the picking.
The Somis Farm Center is located about an hour from L.A. and is open 9 a.m. to 4 p.m. daily.
To reach the berry trail from the farm's entrance, skip the market and head past the sand play area. Look for the umbrella just past the white fence, under which you'll see plenty of 1- and 2-pound containers that you can use for picking. During our visit there wasn't anyone handing them out or offering any direction, but things may be different on weekends.
If this is your first visit, you might want to head inside the farm market first. We simply explained we wanted to go picking and were given some general guidance about which berries were where and how much of each there was on hand.
There are only a couple of signs out in the field to indicate which fruit is which, but it's easy enough to figure out once you work your way down the rows of fruit. With no posted signs providing picking guidance, I made sure to let the kids know how to tell if each fruit was ripe. This is something best done before the picking starts.
We were able to pick blueberries, raspberries and blackberries during our visit and easily spent close to 2 hours in the fields, especially since not all of the berries were plentiful just yet. When you finish picking, you can pay for your fruit in the farm market.
Notes for Families
Summer on the farm can get hot, so come prepared with hats, sunscreen and water for everyone – and plan to limit your picking time if it's really hot
Berry picking can get messy, so dress in clothes you don't mind getting dirty
Be aware: Raspberry and blackberry vines are prickly and can be painful for kids and adults alike
If you plan to pick more than one container of fruit, bring something to carry the containers in (such as a plastic bag)
This is a working farm with dirt and terrain not suited to a stroller (like very narrow rows for picking)
My kids are 7 and 10 and were able to pick on their own with relatively little help needed; if your kids are younger, I suggest carrying little ones or bringing an extra adult to help out so you are as hands-free as possible
Bring along some hand sanitizer for post-picking clean up
Younger kids will want to see the farm's animal center, and maybe play in the sandbox and on the climb-on wooden truck
Bring a lunch or snack to enjoy at one of the picnic tables
Daytrip Costs
Parking and entrance to the farm are free
1- and 2-pound containers are provided for picking at no cost
Berries are priced by the pound (and subject to availability and may change at any time): Strawberries $1.99/lb., blueberries $3.99/lb., raspberries $3.99/lb., blackberries $2.99/lb.
It's 25 cents for a tiny handful of animal feed if your kids are interested
Cash and credit cards are accepted
Practical Matters
Always call ahead to confirm what is available for picking before heading out to the farm
Entrance to the farm and U-pick area is free
Open 9 a.m. to 4 p.m. daily
Free parking
The berry trail for U-pick berries is open seasonally, usually April through September depending on crop availability
No flush toilets available, though there are portable potties
There is a small farm market providing fresh fruits and vegetables for purchase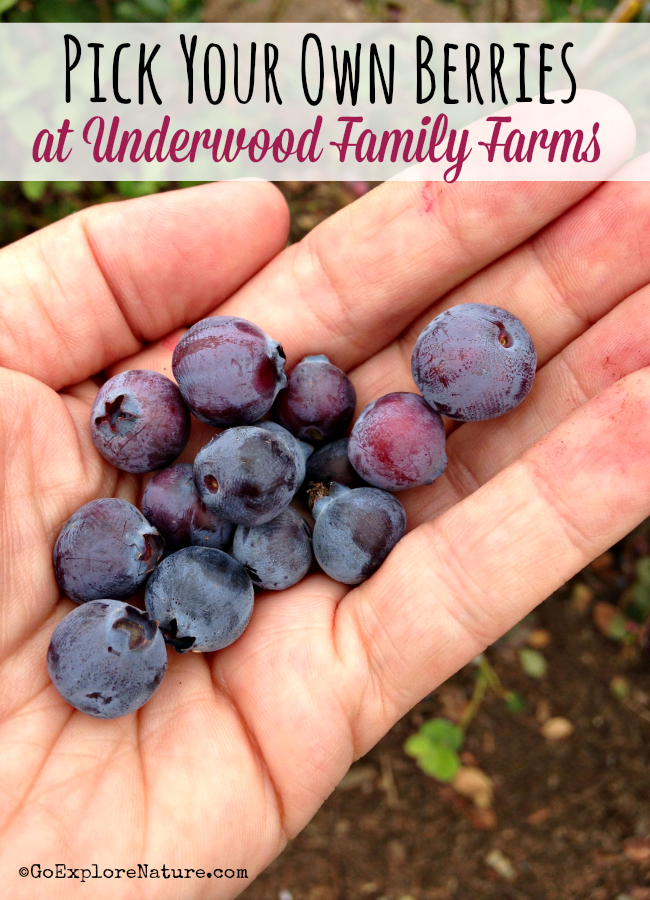 Underwood Family Farms – The Somis Farm Center is located at:
5696 Los Angeles Ave.
Somis, CA 93066
(805) 386-4660
map