Getting to see the Rose Parade in person is a bucket list item for any Angeleno. A few years ago, we were fortunate enough to do just that. But let me let you in on a little secret: There's a much easier way to see the beauty of the floats than going to the Parade itself.
After all, who needs to brave the early, early morning and the cold, cold temps with kids in tow? Even when you finally sit in your coveted seats, it's hard for the kiddos to get a good view of what's going on at street level. If they're like my kids, after a few floats stroll by, the excitement all but wears off.
If you want to know how to view the Rose Parade floats up close, here's my advice: Go see the floats on display in the days following the Parade.
That's right. After the Parade ends on Jan. 1, the floats are open for viewing along Sierra Madre and Washington boulevards, where they remain through Jan. 3.
Viewing the floats on the day of the parade can be busy, so opt for an early arrival on one of the two days following. You will be rewarded with up close views that put you within arm's reach of the floats (though no touching is allowed). It's amazing to see all the detail and work that goes into the final creations.
I guarantee you'll be able to snap some pictures that will "wow" your friends. And you have the added advantage of being able to ask questions of anyone in a white suit. These helpful folks can tell you everything from who made the float to what flowers are included and whether or not it won an award.
Notes for Families
Length of outing: 2+ hours
The Tournament of Roses website recommends at least 2 hours to see everything: "Viewing all the floats will require walking a distance of approximately 2.5 miles and will take at least two hours. The venue is often crowded and you will be walking and viewing at a leisurely pace." When we visited in 2014, we got there shortly after the gates opened (when crowds were nominal) and saw everything in about 1.5 hours.
Parking: Use the Park-N'-Ride shuttle service
I was stressed about the parking situation, and opted to take the shuttle from the Rose Bowl (there are two other shuttle locations to choose from). The process turned out to be simple enough – I easily found the parking area and ticket booth (win!), the shuttles left frequently, and the 30-minute ride itself was an adventure for the kids.
Best time to go: As early as possible on Jan. 2 or 3
Aim to be there when the gates open at 9 a.m. (That means you'll need to plan ahead a bit to account for parking and the shuttle ride over.) By mid-day, the streets are packed and it's much harder to maneuver your way around, let alone get good views. Plus, there are the lines.
What to bring: You can buy tickets online in advance or get them at the entrance. Wear comfortable walking shoes and dress for the weather (with layers as needed). Bring water (it's a 2.5-mile route!) and snacks as needed. Strollers are permitted but can be tricky on the terrain and as the crowds thicken.
What to eat: There are a limited number of food options available like pretzels, popcorn, hotdogs, churros and lemonade. You are welcome to bring small quantities of food and non-alcoholic drinks (just no coolers).
Daytrip Costs (for a family of 4)
Admission ($10 per person x4 = $40)
Shuttle ($3 per person x4 = $12)
Total: $52
Practical Matters
Floats are available for viewing: Jan. 1 from 1 to 4 p.m., Jan. 2 from 9 a.m. to 4 p.m. & Jan. 3 from 9 a.m. to 4 p.m.
2015 admission fees: $10 per person, kids 5 and under are free
Park-N'-Ride Shuttle is $3 per person round trip, free for kids 5 and under
Parking is free at each of three shuttle locations (Pasadena City College, Community Education Center, Rose Bowl Stadium Lot B)
Shuttle service is also available from the Sierra Madre Villa Gold Line Station if you choose to travel via Metro
Portable potties are available at the entrance gates, no flush toilets on site
At the entrance, pick up a brochure with a map; the brochure is also available at all Park-N'-Ride locations
Event is open rain or shine
No pets allowed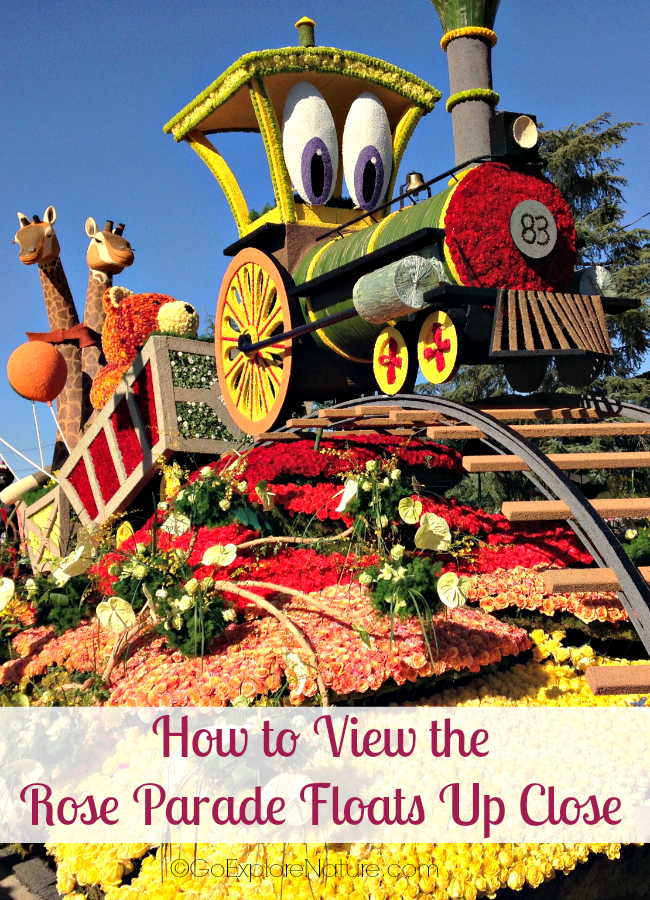 Post Parade Float viewing takes place at:
E. Sierra Madre Blvd. & E. Washington Blvd.
Pasadena, CA 91107
map