If you hike with kids, you know it's important to have a fun destination in mind when you head out. If the journey getting there is interesting too, even better.
Monrovia Falls in Monrovia Canyon Park offers perfect hiking for families. There's a year-round 30-foot waterfall reward at the end of the hike, and lots of fun stream play and rock hopping opportunities along the way.
The 80-acre Monrovia Canyon Park is easily accessible for families, just a few minutes' drive off the 210 Freeway. And while it's a bit of a haul if you live on the Westside, the tranquility once you get on the trail is worth the drive. The forested setting is serene and makes you feel like you're a million miles away from the city.
Need a little more convincing? There are three different trailheads leading to the falls, allowing you to choose the best distance for your family – 1.5 miles, 2 miles or 3 miles round-trip.
Wanna check out a nature center while you're there? That's where we started! We learned that the park is home to bears, deer, snakes, ticks and poison oak. (Luckily, we didn't run into any on the trail.)
The waterfall trail picks up right behind the Nature Center, where you can also grab a self-guided nature trail map. (If they're out, check for more at the Nature Center.)
The ¾-mile trail from the Nature Center is uphill almost the entire way to the falls, so take it slow if you're with little ones. Most of the trail is only wide enough for a single hiker. In some parts, there's a bit of a drop off on one side so keep a watchful eye on younger kids or those who tend to take off running.
Highlights
Distance: 1.5 miles round-trip from the Nature Center, 2 miles round-trip from the middle parking area, or 3 miles round-trip from the Ranger Station
Difficulty: Easy to moderate
Best time of year to go: Year round – winter rains bring more water to the falls and stream, the covered tree canopy provides ample shade in the summer
Trail condition: Dirt trail is steep and uneven in parts and only wide enough for one person; not stroller-friendly
The draw: Great close-up view of a 30-foot waterfall; kids will also enjoy playing in the stream along the trail
Don't miss! Stop in at the Nature Center for an introduction to the park and its wild inhabitants – even see some live specimens
Suggested time: It depends on where you begin and end your hike. And remember, you'll want to allow for some meandering and stream play! Plan on at least an hour if you begin and end at the Nature Center – longer if you opt to hike any further
Practical Matters
Hours: 8 a.m. to 5 p.m. on weekdays (closed Tuesdays); 7 a.m. to 5 p.m. on weekends
Parking: $5 on weekdays, $6 on weekends and holidays (cash only)
Restrooms: Available at each of the three parking areas
No climbing: Rocks are unstable and slippery; be especially cautious after rains
Be aware: Park is home to bears, deer, rattlesnakes, poison oak and ticks, so pay attention on the trail
Pet friendly: Dogs welcome, as long as they are on a leash
Getting to the Trailhead
Monrovia Canyon Park is located at:
1200 N. Canyon Blvd.
Monrovia, CA 91016
Directions
Monrovia Canyon Park is roughly 10 minutes from the 210 freeway. Exit Myrtle Ave. and head north to Foothill Blvd. Turn right. At the second signal (Canyon Blvd.), turn left. Continue approximately 2 miles into the park.
Once inside the park entrance, there are three parking areas to choose from. If this is your first visit, head up to the Nature Center (the third parking area). You can also park at the Ranger Station or middle parking area if you want a longer walk, or if the Nature Center parking area is full.
I noticed a lot of cars parked on the street right before the park entrance, but I wouldn't recommend it. It's a decent drive in to the Ranger Station from the entrance on a narrow, windy road with no clearly defined hiking lane.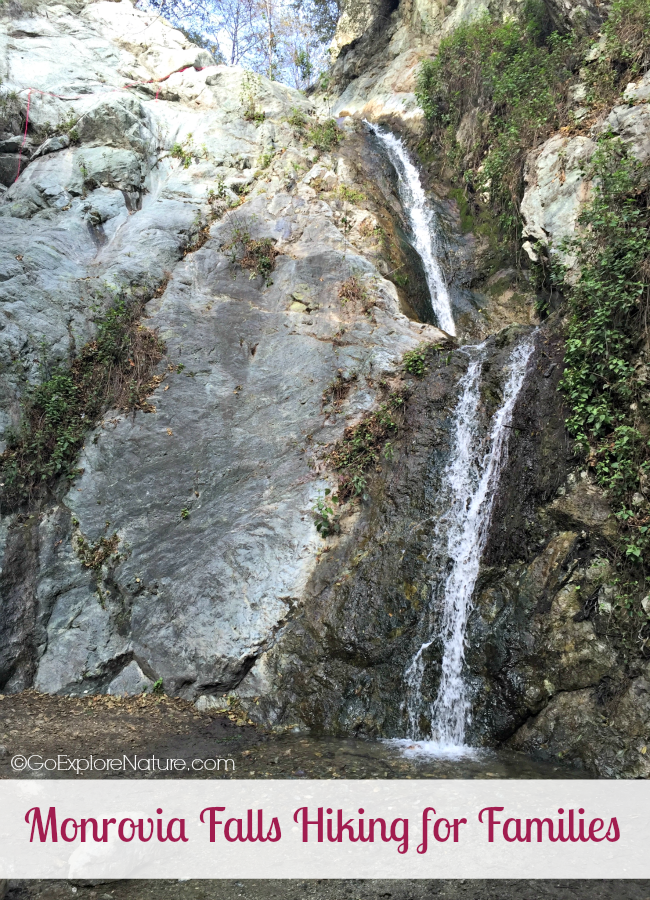 For more inspiration for family hiking in Los Angeles, check out: