My family enjoys spending time outside together discovering new places in Los Angeles and beyond. But sometimes it's fun to make a nature date with just one of my kids for a little one-on-one time.
When it's the 11 year old's turn, I look for opportunities we can't take advantage of when younger brother is along. Which is how we wound up looking for a place to go horseback riding in Los Angeles.
If you go horseback riding with kids at Will Rogers, the kids need to be at least 8 years old. Westside Riding School offers guided, small group, 50-minute rides along the park's Inspiration Loop Trail.
We've actually hiked this trail before, but something about being on horseback makes it a completely different experience. My son had only ridden once before but had no problem controlling his horse, Sunset. And I hadn't ridden since I was a kid but had no troubles with my gentle horse, Logan.
Our group was small, with just four riders and our guide, Rob. From the check-in table, we saddled up our horses and made our way to the Inspiration Loop Trail. I was riding in the back behind my son – who was entertained by all the horse peeing and pooping along the way.
We stopped at Inspiration Point for an amazing view before returning back the way we came.
The horses were gentle and the ride relaxing, making it perfect for first timers or those who might be a little scared to give horseback riding a chance.
Only one bummer worth noting: By riding in the back of our single-file line, I think I missed out on hearing whatever our guide Rob might have been sharing about the park and its history along the way with our fellow riders up front.
Notes for Families
Ride description: The group ride lasts about 50 minutes and takes riders out and back along the Inspiration Point Loop Trail
Recommended age: Must be at least 8 years old to ride
What to wear: Long pants – even if you ride on a warm day! (If you wear shorts, the saddle may rub your skin, which could be really uncomfortable.) All riders must wear a helmet, which is provided at no extra cost. Sunglasses and sunscreen are also a must.
What to bring: There isn't anywhere to store your personal items (think purse, water bottle or camera) while you ride, so keep it simple. If possible, limit what you bring to a car key, payment for the ride (and/or tip) and a camera.
Arrive early! You are asked to arrive 40 minutes early to make sure you have enough time to walk from the parking area to the starting point. This also allows time for get you signed in and on your horse so the ride can begin on time.
Daytrip Costs (for one child, one adult)
Parking ($12)
Guided 50-minute horseback ride ($75 per person x2 = $150)
Tips are not required, but are appreciated – and shared with the groom and horses
Total: $162 (not including tip)
To save: Buy a voucher through Living Social or Groupon to significantly reduce the cost. Instead of paying $150 for our ride, we purchased a 2-for-1 deal for just $70.
Practical Matters
Hours: Saturday and Sunday rides are available every hour on the hour from 9 a.m. to 5 p.m. (summer), 10 a.m. to 4 p.m. (spring and fall), 9 a.m. to 3 p.m. (winter); weekday ride times may vary
Cost: $75 per person
Book in advance! Busiest times are weekends and holidays
Helmets are required: Provided at no extra charge to all riders
Parking: Ample parking available, $12 cash or check (free with a California State Parks Pass)
Restrooms: Adjacent to the parking area
For more info: Contact Westside Riding School
Finding Westside Riding School
After parking in the lot by the polo fields, look for a green sign at the end of that lot near the picnic tables pointing you to the Westside Riding School and Trail Rides. Walk up past Will Rogers Ranch House and the grassy lawn on your left toward the main barn and riding arena. When you reach the arena, turn right and continue to follow the green and white signs to the upper pasture just beyond the roping area (a white fenced in area). You will see a picnic table on your right. This is the check-in area.
Westside Riding School is located at:
Will Rogers State Historic Park
1501 Will Rogers Park Road
Pacific Palisades, CA 90272
(310) 662-3707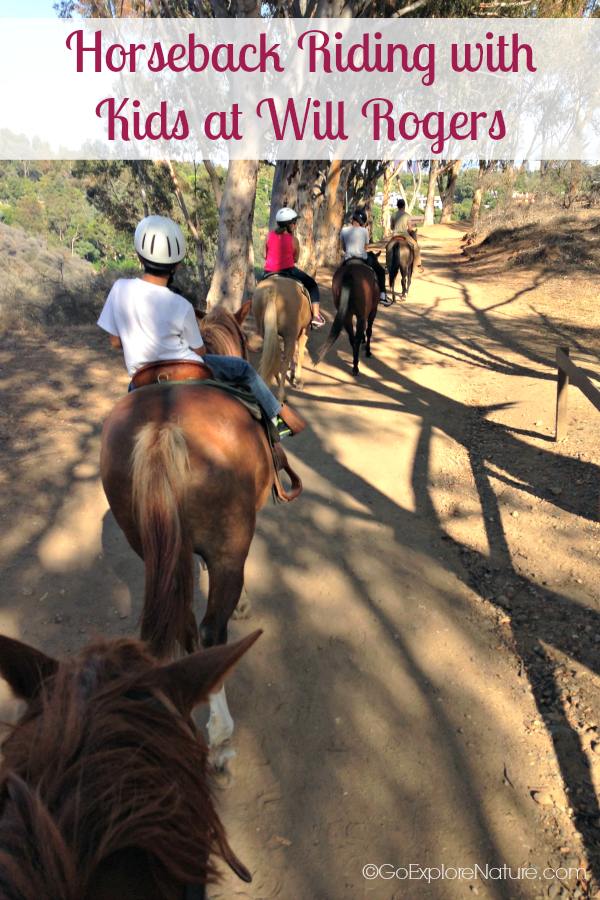 Need more ideas for things to do outdoors with kids in Los Angeles? Don't miss the Big List of Outdoor Adventures for Los Angeles Kids.