Welcome to Day 23 of 31 Days of Backyard Nature Fun, a month-long series offering simple ways to get outside exploring the natural world. To see activities from earlier this month, head here.
I hope those of you with snow on the ground in your backyard are enjoying this series. So far, I've tried to feature all-weather activities that could work for you either now or as soon as the temperatures rise a bit.
But today is just for you. That's right – an activity that requires snow. (I've still got a few more up my sleeve, so stay tuned!)
Being as how we don't actually have any of the white stuff here in Los Angeles, I've invited Jessica from Bring The Kids back. (She wrote about stargazing last week.) Thank you, Jessica!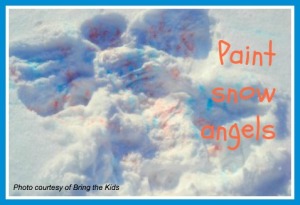 Day 23: Paint snow angels.
Sometimes all it takes is a little twist on a classic to make it new and exciting again.
Take snow angels. Great fun for kids, but after you make a couple, the fun can fade. That is, until you spice it up a bit by tie-dying them. Yes – that's right! Today we're going to tie-dye snow angels!
To paint snow angels, you need three things: snow, spray bottles and food coloring.
Head outside and make a snow angel.
Next, fill your spray bottles with water and 15-20 drops of food coloring. We use any color but yellow (since we want our kids to stay away from yellow snow). The more food coloring you put in, the brighter your "paint" will be.
Start spraying your snow angel. Experiment with a variety of designs and shapes until you get the look you like. For a great tie-dye effect, use lots of colors.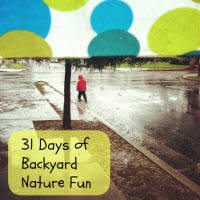 Just joining us? Catch up on what we're up to at 31 Days of Backyard Nature Fun.