I can't believe we're half way through January – and our 31 Days of Backyard Nature Fun. I hope you've been enjoying it so far! I also hope you've had a chance to head outside with your kiddos for at least 15 minutes each day. (I'll wait while you give yourself a much-deserved pat on the back.) 
If you haven't started playing along yet, no time like the present! To catch up on what we've been up to, you might want to head here. 
In case you haven't figured it out by now, there's a lot to explore with kids just by heading outside and looking up. So far in this series, we've already suggested you watch a sunset and keep a moon diary. Today it's time to talk stars.
It's a rare occasion when we see a good display of stars in the night sky – what living in the light-filled city and all. So I enlisted the help of my blogger pal, Jessica, who writes over at Bring The Kids, to share some advice for star watching with kids.
FYI: The Bring the Kids motto is "proving your outdoor adventures don't end when you have kids."  Jessica's proof of that, working hard to maintain her passion for the outdoors by bringing her 3 little kids along on her adventures.
Day 16: Go stargazing.
Stargazing really is the perfect family activity. You can do it in the summer or the winter, with kids or adults, and you can literally do it anywhere (provided it's not cloudy). Winter is one of my favorite times to stargaze with my kids. Since it gets dark early, all we have to do is step into the backyard (with hot cocoa in hand), look up, and enjoy nature's light show.
Head over to Bring The Kids for some tips to make stargazing easy with kids (and for a FREE starwheel).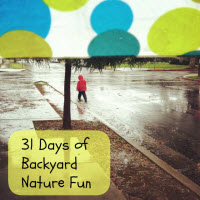 Just joining us? Catch up on what we're up to at 31 Days of Backyard Nature Fun.