Did you have a chance to play along with this year's spring nature photo scavenger hunt? No worries if you didn't: It's already time for the summer update. (And for my friends in the southern hemisphere, check out the winter version instead.)
Here's how the photo scavenger hunt works: I've come up with 30 things you and your kiddos can hunt for outside this summer. Find an item, snap a picture and check the item off your list. Will you be able to find everything before summer is over?
Don't worry if your little explorer isn't an aspiring photographer or sometimes needs your help to snap a shot. The point is to get outside exploring!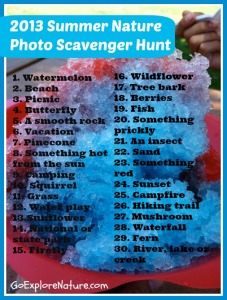 To help keep you inspired all season long, I'll be sharing photos we take here every week as part of "Saturday Snapshots."
Join the fun!
You don't need to sign up to play. To join the fun, it's as easy as 1 – 2 – 3:
1. Print out the free Summer Nature Photo Scavenger Hunt list. Post it somewhere you'll see it every day. Then head outside and into nature with your family and start exploring!
2. Use the hashtag #summernaturehunt if you're on Instagram.
3. If you're on Pinterest, leave your username in the comments below & follow any of my boards. I can then invite you to add your photos to the Summer Nature Photo Scavenger Hunt board.
And if you'd love to play along but have no desire to share your photos publicly, please do so! At the end of summer, you'll have a wonderful collection of memories perfect for a photo book.
Ready to play along but need some ideas for getting outside? Here are a few to get you started: