In an effort to record our many and varied nature experiences, we've created quite a few themed natural journals since I started this blog – including a backyard field guide, a bird book and a family adventure journal. But none have had much staying power.

Which is why I've asked my nature friend, Barb of the Handbook of Nature Study, to stop in and share her sage advice on nature journaling with kids. I hope you'll find her thoughts as helpful as I do.
Keeping a journal has long been a way to record personal thoughts, experiences and ideas. A nature journal does all those things in a way incorporating outdoor experiences to create a personal expression of time spent in nature.
Keeping a simple nature journal should be something your children grow into as they experience nature and then want to keep a record of their thoughts and experiences. It can be as simple as a quick sketch, a caption and the date.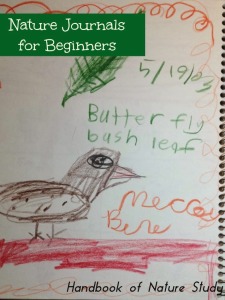 How to Get Started
Gather a few journaling supplies. When our children were younger, they exclusively used small, blank spiral-bound journals because they were easier to take along with us when we did our sketching. We used No. 2 pencils and colored pencils for pretty much all the entries. (For more specific supply suggestions, see my Nature Journals- Ideas and Tips page.)
Simple First Nature Journal
Spend 15 minutes outdoors with your children, following their interests as they explore your own backyard. Try to spend 2-3 minutes listening to the sounds of your own world. After you return inside, ask your children to write down:
One word to describe something they heard.
Two words for something they saw.
Three words for something they felt.
Have them write those words in their journal (or you can if they are too young) and then make a sketch of something they found interesting from their outdoor experience.
What Else Goes Into a Nature Journal?
Sketches of items seen in nature or whole scenes of a special place;
Captions for sketches, the date, questions that need answering, lists of things observed;
Natural items like pressed leaves or flowers, seeds;
Field guide information for the subject.
If you need more ideas or want something for advanced students, check out my free Nature in Your Notebook printable.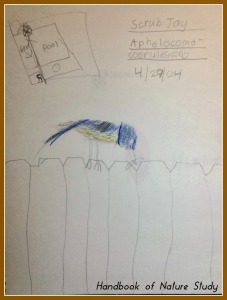 A Few Important Tips
If you child doesn't want to make a nature journal, don't insist they do just to please you. The journal should be offered, but it is up to the child whether to participate. I found my children are more apt to journal if I do, so I keep my own nature journal and model how to do it.
Express the idea that there is no right or wrong way to keep a nature journal. Remember that nature journaling is something that can become a lifelong passion. It is built on lots of outdoor experiences and can enhance the experience by helping your child slow down enough to really see the marvels in the natural world.
Focus on the journaling experience as a pleasurable way to keep track of all the fun things you have done together as a family in the great outdoors, whether that is in your own backyard, neighborhood or far from home on a road trip.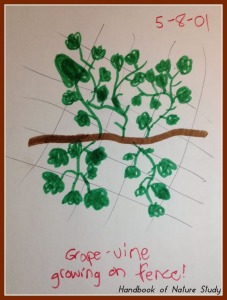 Additional Links You May Like:
Barb McCoy (harmonyfinearts@yahoo.com) blogs at the Handbook of Nature Study where she shares her love of the outdoors and the adventures she takes with her children and husband – whether it is hiking in the Sierra, adventuring the national parks of the west or marveling in the awesome creation in their own backyard.