I had a lot of fun sharing ideas for learning to read outdoors on Childhood 101 last year. Now Christie and I have put together another great series I think you'll enjoy – this one on discovering math in the great outdoors.
One simple outdoor math game The Little Explorer enjoys at the moment is a twist on a basic nature scavenger hunt. Instead of simply looking for certain items in nature, we count how many of each item we find.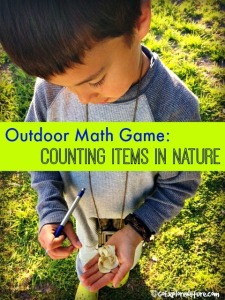 Outdoor Math Game: Counting Items in Nature
Before you head outside, create a list of items for your scavenger hunt. Since we planned on having our adventure at home, we thought about what types of natural items we might find in our front and back yards. Then we made a list. Ours included things like trees, dandelions, flowers, spider webs, roly-polies and birds.
Once you've created your list, grab something to write with and head outside. To play:
Look for the first item on your list. Count how many of those items you see. For example, we found two trees in our backyard.
Write down that number. If you'd like, you can keep a tally instead, using a line to indicate each item you find instead of numbers. This works well if you find a lot of one item, like flowers or leaves.
Continue through the list, searching for each of the items. Record how many of each you find.
Don't forget to take your time and look around. When we were counting trees, we spotted a hummingbird. When we were looking for bugs, we discovered "a billion ants" (by The Little Explorer's count, that is).
When you're done, take a look at the results. Which natural item did you find the most of? The least?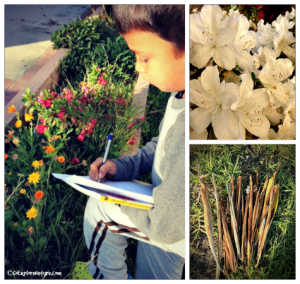 We made this outdoor math game a little more challenging by counting items in both our backyard and our front yard. Then we added the two together.
It might be fun to compare the results of our late afternoon hunt with those from another time of day – or even another season.
If you liked this activity, the fun doesn't end here! Come see how The Little Explorer used his growing math skills to make nature art over on Childhood 101. 
Have you ever used nature to help your children learn about math?