Both of The Explorers enjoy a good bug hunt. Not only do they like searching for backyard animals, they also love the chance to observe them up close for a while.
Roly-polies are a fun backyard animal for kids to study. They are fairly easy to find – just check under rocks or potted plants – and slow enough for even the unsteadiest of hands to gently grab without harming.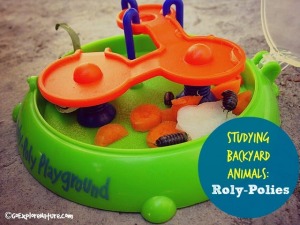 Lately, we've been using a Roly-Poly Playground (which costs about $7) as a portable habitat for the roly-polies we find in our backyard. The "playground" is a domed habitat with a snap-tight lid and air holes. There are ramps for the roly-polies to explore and a receptacle for adding water, too.
If you don't have a fancy playground, you can make your own roly-poly terrarium instead. In either case, both containers allow you to keep the roly-polies safe while kids make their observations. Then be sure to release them back into their natural environment when you're done.
There's lots of interesting stuff for kids to learn about roly-polies. During our observations and reading, we discovered that:
They have a lot of different names. We call them roly-polies, but they're also called pill bugs, potato bugs, wood lice and more.
Roly-polies aren't bugs at all; they're crustaceans. Their outer shell looks a lot like their relatives, crabs and shrimp.
When they get scared, roly-polies curl up in a ball. Turns out they aren't dead, just protecting themselves from a threat.
They like to live in dark places, so if you bring them inside your home, place them in a dimly lit or dark area.
Roly-polies turn bright blue when they're sick. We didn't witness this first hand, but have seen blue roly-polies in our school garden and wanted to know what caused the color change.
They need food and water, just like humans! Damp leaves or a moist paper towel will work during your observations. They will eat leaves and pieces of carrots, potatoes or apples.
Roly-polies are great decomposers. They feed on dead plant matter, then return vital nutrients to the soil.
Your kids may want to write about what they learn in a nature journal. They might want to add drawings or photos, too.
Note: I purchased a copy our Roly-Poly Playground for personal use. I received no compensation of any kind to share my honest review with you here.